Valerie (patzak @t telus.net) of British Columbia, Canada, writes: Under "What's New" July 2001, there is a listing for The Universal British Directory of Trade & Commerce comprehending ... all the Cities, Towns and Principal Villages in England and Wales. (This was issued in parts between 1790 and 1798. Your sample entries mention a William Batten - "Grocer in St. Albans". I would appreciate if you could confirm this entry as I only have William Batten down as an Innkeeper first appearing in 1792 (later a farmer) in Standon parish. It might offer me an alternative area to search before he shows up in Standon employed by the local Quaker David Barclay of Youngsbury. (William Batten died in High Cross in 1825.) William had two brothers - Joseph & John and they were all born in the 1750's-60's although I have not been able to determine where so far. (Batten is not actually my family, who are Harts, but I have become sidetracked researching Battens as they employed and married into my line).
The entry for St Albans is correct. Familysearch records two William Batten christened in the Abbey Parish, St Albans, in 1744 and 1776 and possibly the William Batten, Grocer, is one of these, presumably the older. I could not see any Batten in St Albans listed the 1823 Pigot's Directory.
On the information you have given I can't see any reason for suggesting that the William Batten of Standon is closely related to the William Batten of St Albans, although he may have been. If you have not already done so may I suggest you look at the web page Right Name, Wrong Body.
Valerie Edwards (patzak @t telus.net) replies Thanks for your reply and help with my recent query. Don't worry - I would not make the assumption that the William Batten in St. Albans is the same as the one in Standon without much more research. However, your reply already shows me that they are not the same people as the dates of birth are too way out! But I had to ask to eliminate him! I have a note down for a William Batten who married an Ann (or Hannah) and had a son William (bap. 23 May 1768 in St. Leonard's, Shoreditch, Middlesex. -IGI) I also have a note that the family moved to St. Albans. If any one is interested in this family they should check these details for themselves as I have no other information.
~~~~~~~~~~~~~~
Valerie (patzak @t telus.net) then asked Can anyone throw any light on why a couple who both lived in High Cross would go to St. Leonard's Shoreditch to get married? Lucy Hart (b.1799 in Wadesmill, daughter of Edward & Elizabeth [nee Batten] Hart of High Cross) married Joseph Triplow (b.1797 in Charteris, Cambs son of Joseph & Hannah [nee Skinner] Triplow) a wheelwright, married in St Leonard's, Shoreditch, 31st Oct. 1827 by banns. Both signed. Witnesses were Thomas & Jemima(?) France. Witnesses were not connected to the couple as far as I am aware, and the name does not seem familiar to the area. The couple returned to High Cross to live and all children were baptised locally.

This is not the first instance that I have come across of "out of county" couples marrying at this church. What could have been the attraction? Lucy was 6 months pregnant - but that was not so unusual and many other pregnant wives to be didn't go to Shoreditch!
Before 1837 marriages could only be conducted by the established church, and many non-conformists - particularly leading lights in the local chapel. would not be seen dead inside the parish church. However there were a number of churches which, for periods, were not very fussy about who they married, and I don't know if St Leonard's, Shoreditch, was one of them. Quite often the couple would give as their residential address that of a boarding house in the same parish as the church. There could be other reasons for not marrying locally and people from Hertfordshire wanting to marry where they would not be known usually when to London or the immediately adjacent Middlesex Parishes. For instance, one of my ancestors, Daniel Hill, married his late wife's sister - which was against church law - but was a valid civil marriage. He could not have got married in Flamstead, Herts, or Pinner, Middlesex, as the couple would have been well known and someone (possibly the vicar) would object - so they got married in St Pancras New Church, Middlesex.
If a couple were getting married on their own it was always possible to get witnesses - and I have often seen entries where the same witnesses appear for a significant number of weddings. I have not investigated this but they were probably associated with the church and presumably received a tip for their trouble. When looking up a marriage in a register it is always worth checking at least a dozen entries on either side to see if the "unknown" witness names occur several times.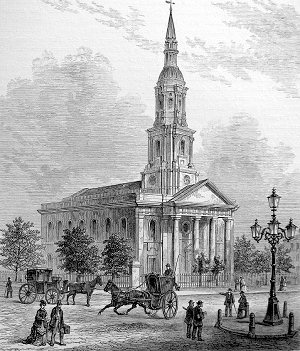 Having said this, in your comment on earlier query you mention a Batten baptism at St Leonard's. Shoreditch, which could suggest a family connection with the parish.
Valerie (patzak @t telus.net) commented Just to say thank you for your reply. Your ideas about St. Leonard's, Shoreditch have made me think, especially as you make the connection of Battens marrying there previously. So far though, I have found no links between these and Lucy's maternal Batten side. Kind regards and thanks for all your effort involved in this web site.
~~~~~~~~~~~~~~