Barbara Wyley (jbwyley @t xtra.co.nz) kindly pointed out an error (now corrected) relating to the book "Garden Making & the Freman Family - A Memoir of Hamels" She mentioned that James MASON, an ancestor of mine, lived there in the mid-eighteenth century (1754 poll book shows him as a tenant of Ralph Freman at Braughin.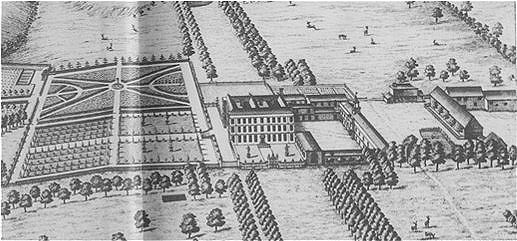 Hamels in 1722 (detail showing part of the farm, behind the house)
The following edited extracts come from the introduction to the book:
The Reverend George Smith started his Memoir with a look back to 1713 when Ralph Freman became 'Master' of Hamels and immediately started to build a farm house for Mr. Mason. The reason for this apparent act of philanthropy was that Samuel Mason, yeoman, and his family were occupying a wing of Ralph Freman's newly acquired mansion - a situation that had existed probably since 1694 under a rental agreement with the late Sir Thomas Brograve. [Indenture granting lease of Hamels to Samuel Mason, 1694, HALS, D/ECd/E103] Indeed a document dated May 1713 refers to 'all that farm or tenement called ... Masons alias Hamels'. [Covenant to Levy a Fine, HALS, 79375] The farmhouse that Mr Freman built (or more likely rebuilt) still stands today, just 150 metres north of the mansion, and bears the date 1715 on a sundial on the front of the house.
... ... Samuel Mason's sons, Samuel and James, were baptised at Braughing in 1691 and 1698, respectively. James took over the lease of the farm at Hamels on the death of his father in 1723 and produced three sons, Samuel, James, and Thomas who went on to expand the Mason dynasty of yeoman farmers in East Hertfordshire. Samuel farmed at Walkern Park, James at Walkern Bury, and Thomas took over Hamels on the death of his father in 1769. [HALS 28076, copy will of James Mason proved 1769]
The following entries come from Revd. Smith's record:
1717 June: Granary tiled. Masons 2 granarys new lathed & plaistered, the park side
1724 April 4: ... and some oak planks for Mr Masons great barn ...