Bronwyn Gleeson (broneg @t bigpond.net.au) from Australia writes: Have been banging my head on this brick wall for many years! Henry Farrington (my g.g. grandfather) has the following info on his marriage cert.

Married December, 1860, Tumut, NSW Australia. Born Buntingford, Hertfordshire, England, Age 28. Parents Thomas Farrington, Elizabeth Norman.

I can find a birth that matches place and year but has a Sarah as mother. Elizabeth Norman/ Farrington doesn't exist. I can find a marriage for Thomas and Sarah. I can't find a marriage for Thomas and Elizabeth. Henry was a baker and he states his father was a cordwainer.
It is important to realise that errors often occur - both in original documents and in transcriptions/indexes - and the kinds of errors in the census indexes are described on Problems with finding information in census returns. There appear to be a number of errors which have been blocking your way.
The 1851 census lists a Sarah Farrington, a 56 year old widow living in the High Street, Buntingford, who is described as a "Cordwainer (Mistress) employing 3 men and one apprentice", born at Royston. Her children, all born at Layston, were Elizabeth (28, house servant), Thomas (26, Cordwainer (Journeyman)), Ann (22, Shoe Binder) and granddaughter Mary (8 months). Sarah obviously had quite a big business by the standard of the time, in small Hertfordshire towns.
A search of the 1841 census (from Ancestry) using "Farrington" fails to find the family - but if we look for all children called Thomas aged about 16 living in Layston (surname left blank) you will find a "Thomas Faerington". Looking at the original image shows this is a mis-transcription for "Farrington", The head of the household was a Sarah Farrington (shoemaker) and the family included a 9 year old Henry Farrington (i.e. born in 1832) - who is presumably your Henry. This is the same Sarah as the one in 1851 and the occupations of shoemaker and cordwainer are allied occupations.
Familysearch records that Henry the son of Thomas and Sarah Farrington was born on 4th January, 1832 and baptised on 29th September 1836 at the Buntingford Independent Chapel. The Hertfordshire Burial Index showed that someone called Farrington was buried at the Buntingford Independent Chapel on 15th November 1833. As Sarah was widowed by 1841 could this burial be her husband Thomas?
This comes to an important point. If you are lucky enough to find that your ancestor's pre 1837 baptism is recorded in a non-conformist "register" you MUST make arrangements to see the microfilm of the document, probably at your nearest LDS Family History Centre. The reason is that many chapels kept a chapel log book, rather than a Church of England style register - and in addition to recording births/baptisms and deaths/burials they may well include lists of members, dates of joining (and leaving) the chapel, minutes of Chapel meetings, etc., etc. As such they can include much extra information about your ancestor and their family which is unlikely to be available elsewhere.
It is not clear whether you have looked at the register microfilm for the marriage of Thomas Farrington and Sarah Ann Fulford at the Old Church, St Pancras - on 8th June 1828 - but if you do my guess is that he will turn out to be described as a widower. This would mean that the Elizabeth Farrington (28 in the 1851 census) was the eldest child of his first marriage - and was most likely named after her mother (common practice with first daughter). If this guess is correct Thomas was married to an Elizabeth before he married Sarah - and Henry may have given the name of Thomas's first wife when he married in Australia. (By a strange coincidence my wife and I drove to London to the the Chinese Terracotta Army Exhibition a few hours before I got your email. As we drove past the Old Church, St Pancras, I told my wife that this church was much favoured by Hertfordshire non-conformists who did not wish to be seen entering their local Church of England parish church!)
So was his first wife called Elizabeth Norman and did they marry about 1821 (i.e. shortly before Elizabeth Farrington was born)? You have already found that searching for Thomas Farrington provides nothing, but as I said at the beginning, errors can occur. I therefore carried out a search using familysearch to see if I could find a suitable Elizabeth Norman marrying ...
On 1st February 1822 Elizabeth Norman married Thomas Nash at the Old Church, St Pancras.
So an Elizabeth Norman married a Thomas at the predicted date - and in the same London Church as Thomas Farrington married Sarah seven years later. It can't be a coincidence. Again it is ESSENTIAL that you look at the microfilm of the register to see what the original document actually says. It may be that the surname "Nash" is an indexing error - or perhaps Thomas was really Thomas Nash Farrington - and the register was incorrectly completed. It could be worth comparing the signatures at the two marriages. (If Thomas "made his mark" he would not be able to read or write - so would not notice if the register entry he was marking was incorrect.)
I decided to guess that Thomas was actually Thomas Nash Farrington and looked for a Farrington/Nash marriage. I found
On 17th February 1776 William Farington married Ann Frances Nash at St Mary, St Marylebone Road, London
St Mary (St Marylebone) was only about a mile or so from the Old Church, St Pancras, and may well have been another used by people from Hertfordshire that did not want to be married in their own village. A few years later we have the following Hertfordshire baptism
Thomas Farrington, son of William & Elizabeth, was baptised on 6th September, 1789, at Broxbourne.
Everything fits very well if we assume the following errors:
When he married Henry was asked for his father's name - and the registrar then asked for the name of Thomas's wife. Henry gave the name of Thomas's first wife and this was recorded rather than Henry's mother.

When the 1851 census was completed Elizabeth was recorder as "daughter" rather than "step-daughter". (A very common problem in census returns).

The "Farrington" surname is wrongly indexed on Ancestry making it hard to find Henry.

When Thomas married for the first time he was asked for his Christian name and said "Thomas Nash" and the registrar assumed that "Nash" was his surname - and didn't ask for his surname. (Don't forget that the couple presumably came to London specifically to get married so errors in the names is much more likely than marriages in their home parish.

? A full reading of the Chapel book (register) recording the death of a Farrington may show that it was Thomas - but his given name was not recorded at the time it was indexed.
December, 2008 - Hoddesdon late 19th Century
Tony Farrington (tony.farrington @t talktalk.net) of Devon writes: I am a descendent of Henry Thomas Farrington born 1853 Hoddesdon, Ware, Herts, his son Henry born 1888, was my father Harry's father. I have been trying to find a marriage certificate for Henry Thomas Farrington to Katherine born 1854, who gave her birth place as Alderney in the 1891 census. If anyone would like information on this part of the Farringtons, I will gladly supply it, they came to Fulham and Chelsea, London in the late 1800s,(where I was born).
I had no great difficulty in finding Henry (Thomas) Farrington in the 1871, 1891 and 1901 censuses and (bearing in mind the mis-recorded records mentioned above) I was interested to note that the census enumerator in 1871 had described Henry as the wife (male) of his widowed father! The children in the 1891 census suggest the marriage probably took place about 1883 - assuming that the eldest was born after the wedding - and that Katherine is the mother of the children (they might be stepchildren). The different way names are written in the 1891 and 1901 census may suggest they did not fill in the household form for themselves (Katherine č Catherine, Mary E č Elizabeth M, Henry č Thomas H, Bertie č Albert) This could mean there may be some flexibility in naming in other records.
All kinds of problems can make it difficult to find a marriage, see for example A Comedy of Errors, and there are uncertainties as to where they might have married because (1) Henry was a carpenter (at least in the 1871 & 1901 censuses) and building workers sometimes travel to where building work is taking place and (2) Katherine must have moved from Alderney to Hertfordshire at some stage. It could help in tracing down the marriage if we have Katherine's maiden name (from the children's birth certificates) and if we could pin down unmarried Henry and Katherine in the 1881 census.
January, 2009 - Hoddesdon - Buntingford connection
Tony Farrington (tony.farrington @t talktalk.net) adds the following information: I have also dug out a piece of paper that reads as follows;

Thomas Henry Farrington of Hoddeston, carpenter and others, to Henry Wilkinson of Hoddeston, butcher, messuage, butchers shop, with yards etc, at the corner of Amwell and Duke Streets and four cottages adjoining above with yards etc in Duke Street,

This had no date but the next piece did, it is as follows;

Thomas Titchmarsh by direction of Messrs George E Foster & T H Smith, to Thomas Farrington, 2 cottages or tenements called 'Pignose' formally in occupation of the overseers of the poor, absolute surrender and release. DE/CH/75615 – 15th May 1867.

Another oddment is;

Abstract of the title DE/CH/75616 – 1867 – 1920. Contents of Ebenezer W Farrington, two cottages called 'Pignose'. Memorial Records and title deeds, Buntingford, 1608 – 1924.
Pig's Nose is in Buntingford - see following picture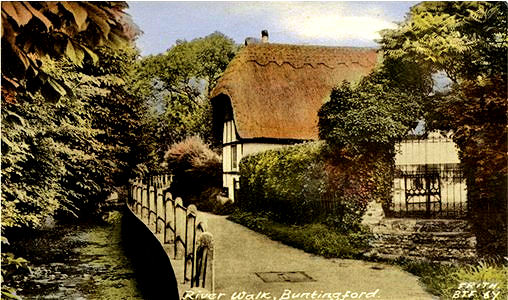 River Walk, Buntingford - Frith post card
(An earlier postcard from a similar viewpoint is entitled "Buntingford, Pig's Nose")
Tony Farrington (tony.farrington @t talktalk.net) of Devon writes: I was reading you updates on the Farrington page and noticed that you said "if we knew the maiden name of Henry Thomas Farrington's wife, born in Alderney, Channel Islands, it may help". Her name was Catherine Anne Whitcomb, in 1891 census she was 37, making her birth in 1854.
Because of the problems of errors in the civil registration marriage indexes (see A Comedy of Errors) it is often useful to be able to search for the wife's maiden name if a search of the index for her husband in negative. A search for Catherine Anne Whitcomb's marriage also proved negative, as do searches for her in earlier censuses, so it may be they were married outside England.
April/May 2010
Tony Farrington (tony.farrington @t talktalk.net) reports that he has obtained the marriage certificate of Henry Thomas Farrington (25 year old carpenter, son of Henry Farrington, carpenter) and Catherine Anne Whitcomb (21 year old servant, daughter of George William Whitcomb, diver). The marriage was on 17 September 1877 at St Leonards, Shoreditch, Middlesex. There is nothing about the information on the certificate to explicitly link it to Hertfordshire. He later adds:

I have gone back over some of my work to clarify how I associate my Farringtons with those from Hertfordshire. My Grandfathers sister was Kathleen Joan Farrington, born 20th Jan 1891 in Herts, died 1981 Eastbourne, she was the daughter of T.H Farrington, born 1853, Hoddesdon, Herts and Catherine Ann Whitcomb, born on Alderney C.I 1854, she married Harold Victor Dundas. I noticed also that there was a Catherine Ann Farrington born Ware, Herts, Sept 1882 but died very soon thereafter 3A-186. All of my earlier Farringtons were born in Royston, Ware, Hoddeston, Buntingford, etc, there does seem to be at least two close families at the same time with the same names running through them, one set have Australian connections.


| | | |
| --- | --- | --- |
| New message | | April 2010 |
| New message | | Mat 2010 |