RODWELL, Wilstone, Mid 19th century

October, 2013
John Rodwell (jdrodwell @t comcast.net) from Pennsylvania, USA. writes: My Great Great Grandfather William Rodwell of Wilstone may have left with a wife and daughter (Martha and Elizabeth) there and remarried in Massachusetts, USA. How awful if he left a child there!! Martha (nee sic Hall) may have died c 1870)
The surname name Rodwell is locally common, and because there were so many non-conformists in the area whose births/baptism records before 1837 have not survived (if they ever existed) one has to be careful about assuming that one has the right person, in part because the example of the five men called George Seabrook took place at the about same time and in the same group of hamlets.
There is no doubt that a William Rodwell married a Martha Hill in 1863 and they had a daughter called Elizabeth the following year, as the following extracts from the Tring register show. It is interesting to note that the marriage was originally planned for October 1862 but the couple decided that it should not go ahead at that time. William's occupation is given as a baker, and both were living at Wilstone. Elizabeth's birth certificate would almost certainly show where the couple were living after the marriage and confirm William's occupation.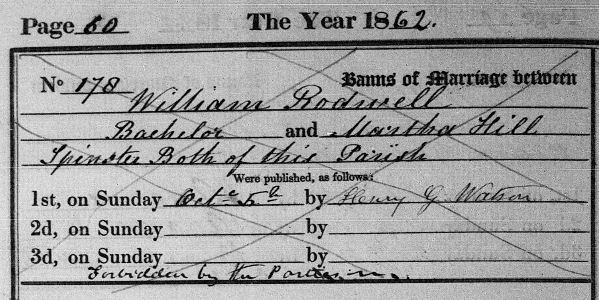 The 1871 census shows the following household in Charles Street, Tring.
| | | | | | | | |
| --- | --- | --- | --- | --- | --- | --- | --- |
| HILL, Thomas | Head | Widower | M | 77 | 1794 | Agricultural Labourer | Hulcott, Buckinghamshire |
| RODWELL, Martha | Daughter | Married | F | 30 | 1841 | Straw Plaiter | Marsworth, Buckinghamshire |
| RODWELL, Elizabeth | Grandchild | | F | 7 | 1864 | | Tring, Hertfordshire |
The fact that her husband is not recorded may only indicate that either he was working away from home, or she had gone to visit her father. Later the same year the death of a Martha Rodwell, aged 31 is recorded. Her death certificate would give cause and place of death. It would not record any information on her marriage or husband, unless he was the person who registered the marriage. Following Thomas Hill back through the earlier censuses (which you can check online) it would appear his wife (and most likely Martha's mother) was called Alice, and that Martha's age was incorrectly recorded on the marriage and death certificates. The daughter Elizabeth was almost certainly the Elizabeth Rodwell who was working as a domestic servant at Elm House, Tring, in the 1881 census and was probably the Lizzie Rodwell, dress maker, who was staying with a cousin, Mrs Eliza C R Riggs (also born in Tring) in St Marylebone, London, in 1891.
So what of William. In 1861 he was a unmarried 23 year old baker, living in Wilstone, and born in Long Marston, both hamlets in the rural part of Tring parish. He had a servant Thomas Shot who was described as a joiner and baker. Using this information I can find no William Rodwell which fits his description in later censuses - so it is possible that he left the country as you suggest. However this William could be the the one recorded in the 1851 census thus:
| | | | | | | | |
| --- | --- | --- | --- | --- | --- | --- | --- |
| RODWELL, James | Head | Widower | M | 66 | 1785 | Farmer Of 44 Acres (Employ'g 2 Men) | Gubblecote, Hertfordshire |
| RODWELL, Alfred | Son | Married | M | 30 | 1821 | Farmer Son | Wilstone, Hertfordshire |
| RODWELL, Mary | | Married | F | 30 | 1821 | Farmer Daur | Cheddington, Buckinghamshire |
| RODWELL, William | Grand Son | Unmarried | M | 15 | 1836 | Farmer Son | Long Marston, Hertfordshire |
The above census return gives the impression that the William born in Long Marston in about 1838 may have been the son of Alfred and Mary Rodwell.

This advert, from the Bucks Herald of 29 September 1860, suggests Alfred became a baker, and perhaps William worked for him. However in 1861 the Alfred born at Wilstone, listed in the 1851 census, was a farmer at Durrants, Northchurch, (the part of Berkhamsted nearest to Tring). 10 years late he was in an even larger farm at Drayton Beauchamps. Bucks (the parish to the west of Wilstone).
The 1841 census (which is less detailed, and less accurate) records a James Rodwell (farmer) and Elizabeth Rodwell living at Long Marston, whose household includes a William born about 1836. There appear to be no surviving baptism records for this family, a problem that frequently occurs before 1837 (See Where is my ancestor's baptism before 1837?), which could complicate further investigation. (In the parish of Tring there were 5 Baptist chapels, and one Methodist chapel in 1847!)
The most likely interpretation is that William Rodwell (born Long Marston circa 1836) was the son of James and Elizabeth Rodwell (which fits the information from the Massachusetts marriage records) and in 1851 he was staying with his uncle? Alfred Rodwell, and later working in the baker's shop in Wilstone. He married Martha Hill and then apparently went to America without her.
You can view the relevant census forms, and perhaps find more church register entries or newspaper references, on FindMyPast. There is no point in buying a copy of William and Martha's marriage certificate because it will only be a photocopy of a manuscript copy of the marriage register, but Elizabeth's birth certificate, and Martha's death certificate would prove very relevant if they told us anything we don't already know.
There is another areas you might like to investigate in America. During the 1860s the local paper contained regular advertisement encouraging people to emigrate, but normally to Australia, New Zealand or the Natal. Your William chose to go to America. Why? Perhaps he already had contacts there. In 1828 a former Tring resident, Garnet Jones wrote a letter which ended "I arrived in England the beginning of January last; and having finished my business, I am about returning by the Georgia, Captain Smith, from Liverpool for New York, with about fifty of my old friends and neighbours, who are desirous of maintaining themselves and families in peace and plenty." A lot of people emigrated because they had friends or relatives who wrote back to England inviting those at home to come and join them. It could be useful to check the area where William first turned up in America to see how many other people came from the Tring area, including over the county border into Buckinghamshire.
| | | |
| --- | --- | --- |
| | | |
| October 2013 | | Page Created |