Rogues Gallery

Waltham Cross, Cheshunt. Waltham Abbey, Enfield Wash Hospital Carnival Committee 1920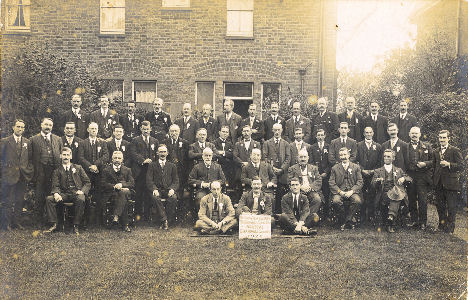 Click picture for larger image of whole group
Can you identify any of the people in the picture - or even better do you have a copy of the Carnival programme?
If you think one of the people is your relative - but would like to see an enlargement of their head, tell me.

I am uncertain of the location of the hospital - as while some of the committee will be from Hertfordshire it is not clear whether the hospital was in the county.
---
Carolyn Tischer (xenachen @t comcast.net) writes from America: I wrote to you some time ago about the photograph of the Waltham Cross Hospital Committee on the Rogues Gallery page. I believed I recognised one of the members. Now I am sure since I found the exact same photograph in an old trunk. The man seated on the front row second from the right with a dark moustache is Edward Sewell of Waltham Cross. He was my great grandfather.
The 1871 census shows that Edward Sewell was born in 1869 and was living at Waltham Cross with his parents Edward Sewell (39, carman, born Waterford, Herts) and Ann (34, born Tewin, Herts). By 1891 the newly married Edward was recorded as a gunmaker living at 27 Eleanor Road, Cheshunt, Hertfordshire (but indexed under Middlesex) In the 1901 census Edward Sewell was a 32 year old filer in the Gun Trade, living with his family at 38 Eleanor Road, Waltham Cross, Hertfordshire. In 1911 they were at the same address and he was described as a gun maker working at the Royal Small Arms Factory.
Carolyn added: Yes, he did indeed work for the Small Arms Factory in Enfield. He was also a machine gunner during WWI and settled later in Waltham Cross. He and two of his sons belonged to the Royal Antediluvian Order of Buffaloes (Priestley Lodge). That is probably how he became involved in the hospital carnival committee.
| | | |
| --- | --- | --- |
| June 2010 | | Page created |
| March 2013 | | Edward Sewell identified |