In Victorian times black edged "In Memoriam" cards, such as this example, were common among the well-to-do.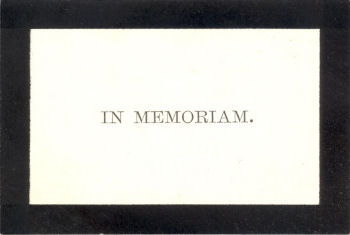 The simple plain cover opened to reveal a few religious words and brief details of the deceased.
John Richard Griffith was born August 27th, 1843, at Darley Parsonage, Darley Abbey, Derbyshire, the son of John and Sarah Eliza Griffith, and was baptised at Darley Abbey on October 8th, 1843, his father being the vicar. He went to Oxford University and was called to the Bar on 12th June 1870. His father became head master of Brighton College, where John was brought up, and in 1872 became vicar of Sandridge, where John Richard Griffith died on June 1st, 1877.
| | | |
| --- | --- | --- |
| Page Created | | November 2012 |