edited by Janet R Rose

St Leonards Publishing, Sandridge

Published 1999 (ISBN 0-9537647-0-2)

"Historic Sandridge" by E GILES & R W THRALE was published in 1952, and reprinted in 1969. It has now been totally rewritten as "Historic Sandridge Revisited," edited by Janet R Rose.
The book has been very much brought up to date, with good photographic illustrations and index. There is much to interest anyone whose ancestors come from the parish of Sandridge. In addition to much about everyday life it contains useful information on the churches, and the changes over the last 120 years. It includes a picture and history of Waterend Farm, where Sarah, Duchess of Marlborough, was said to have been born, and where my own great great grandfather, Dolphin Smith, lived in the mid 19th century.. I was interested to see that Hammonds Farm, which my own family was linked to for over 100 years is first recorded some 700 years ago. In addition I discovered that Soot House Lane was so called because when the Midland Railway opened my great grandfather, Jacob Reynolds, brought in soot by train from London to be used as fertiliser. It may well be that if your ancestors came from the village you will also find something of particular interest to you.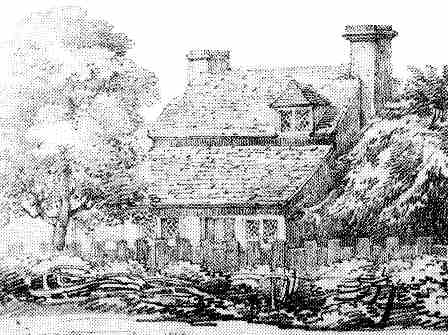 Marshalswick Farm, Sandridge, circa 1824
The only loss of any significance is the omission of the list of parish priests from 1349, and the genealogies of the Parsons and Thrale families, and the Lords of the Manor of Sandridge since 1543. However unless you are specifically interested in these families the new edition is a great improvement.
~~~~~~~~~~~~~~~~~~~~~~~~~
The text of the 1952 edition of Historic Sandridge is reproduced on the Thrale website, together with the Thrale family tree.
Locating Books
At the time this page was last updated new and second hand copies could be ordered online
Page updated April 2005