Industrial Archaeology of Hertfordshire
by W. Branch Johnson
David & Charles, Newton Abbot, 1970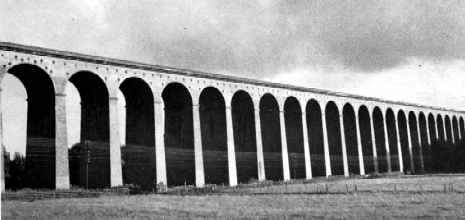 Digswell Railway Viaduct, built in 1850
This book is an excellent survey of the industries of Hertfordshire and is in two parts. The first part contains the following chapters:
The Hertfordshire Background
Malting and Brewing, Milling and Papermaking
Miscellaneous Industries
Public Services: Gas and Water
Roads, Waterways, Railways and Posting Boxes
Industrial Watford 1800-1968
Part two contains a useful gazetteer of industrial remains, plus lists of London Coal Duty Boundary Markers, Milestones and Victorian Posting Boxes. There is also a classified bibliography.
For a sample extract see Silk Mills at Watford.
Locating Books
At the time this page was last updated second hand copies could be ordered online
Page updated April 2005