Victorian & Edwardian HERTFORDSHIRE
from old photographs
by Richard Whitmore
B T Batsford, London, 1976 & 1985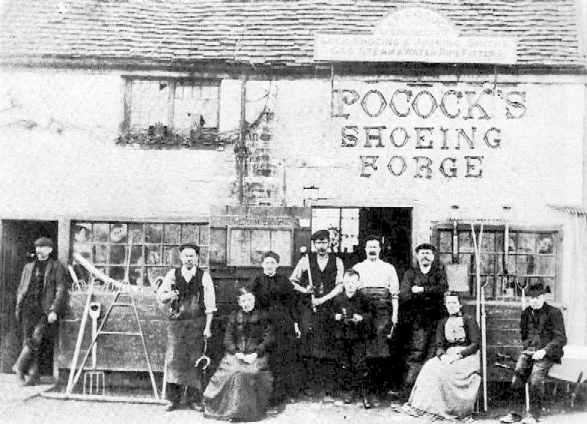 A Berkhamsted blacksmith with his family and men circa 1895
The book contains a well-balanced selection of old photographs from across the county, with sections on Farming and Market Days, Industry, Towns and Their People, The Volunteers, Buildings, At Play, Village Life, Transport, At Home, Events and People, and Children. While it is unlikely to contain a photograph of your ancestors it creates a vivid impression of the world in which they lived.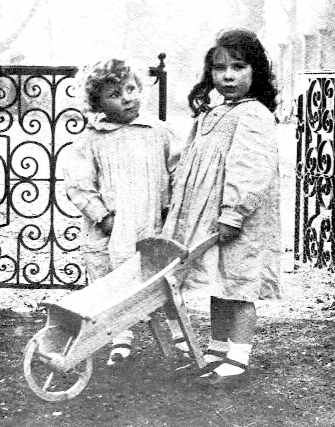 Lady Elizabeth Bowes-Lyon and her brother David, the youngest of the ten children of the Earl and Countess of Strathmore, at the family's county house St Pauls Waldenbury in 1905. Lady Elizabeth spent most of her childhood in North Hertfordshire and for a while went to school in Hitchin. In 1923 she was married in Westminster Abbey to Albert, Duke of York, who was crowned King George VI in 1937 after the abdication of his brother Edward. Queen Elizabeth the Queen Mother once recalled that the photograph was preceded by a brief but somewhat heated debate over who was to hold the wheelbarrow.

William Austin's Hearse, Stevenage, circa 1906

In addition to a good collection of photographs, including some early ones, the book contains a very useful introduction to the history of photography in Hertfordshire - in particular on Frederick Scott Archer of Bishops Stortford, who invented the collodion wet plate process.
Locating Books
At the time this page was last updated second hand copies could be ordered online
Page updated July 2008