Fishpool Street, St Albans
by
Gerald Sanctuary
Privately published, St Albans, 1984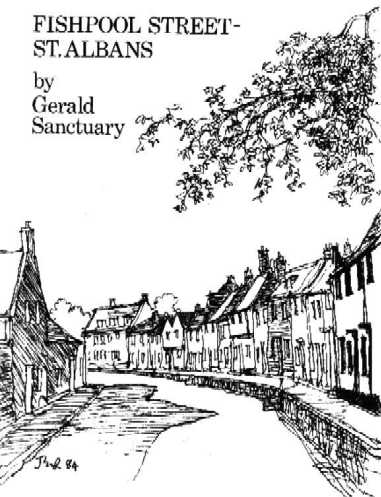 This 20 page booklet provides a good summary of the history of this part of St Albans, Herts, with sections on The Romans and St Alban, The Fishpool, The King's Burgh, Kings and Queens, The Peasant's Revolt, The War of the Roses, The Main Road, Maps, Highwaymen, The New Road, Inns and Beerhouses, The Street revives. Further Reading. About half the book is devoted to "A Walk Down Fishpool Street." The following is an extract from the walk.
Godmersham House is one of the most distinguished buildings in the street. Its top windows, in the second storey of the building which overhangs the street were constructed in the 17th century. This story was refaced in the 18th century. Inside the house there are remains of some much smaller windows, dating from about 1500. The "pargetting", or ornamental plaster work, on the front of the building, was originally cast from a wooden mould. Next door is an equally old building, No. 15, still known as "The Crow", although the Inn of that name was closed in 1914. An old photograph shows Mrs Wright, widow of the previous landlord, standing outside. She makes a formidable figure. Her husband was not only the licensee of the Inn, but also made a living as a Blacksmith.
There is a web page for St Albans
Locating Books
I am afraid that this is the kind of booklet which can be hard to track down.
Page updated April 2005