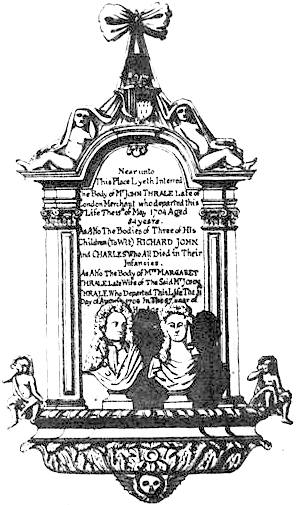 Monument of John Thrale in St Albans Abbey
The following review of what is an excellent family history was printed in the Herts Advertiser shortly after the book was published.
A New Thraliana is the title of a book that Richard Thrale, local historian and genealogist, of [Sandridgebury, Sandridge], has written and prudently dedicated to his three children - Christopher, Lynn and Gregory.
It is a chronicle of the Thrale family of Hertfordshire, printed by Falconer Press, St Albans, price £1.50, for the wider enjoyment of all those who, like myself, could spend happy hours browsing over old family albums and enjoy the musty scent distilled by the fulsome details of old wills and bills.
The author has called his book New Thraliana because it follows a very remarkable 18th century book, Thraliana, written by an ancestor, Hester Lynch Thrale, of Streatham, friend and patron of Samuel Johnson, and a very erudite person herself.
"Hester could not record what she did not know, and this New Thraliana attempts to rectify this omission in history by telling the tale of a yeoman Hertfordshire family and the people among whom they dwelt for centuries," said Mr Thrale.
Mr Thrale's quest for family knowledge has gone on for 20 years and has meant much hard work, delving into all sorts of musty records, including those which can only be read in ultra violet light, 6ft Latin documents, manorial rolls and wills.
Like a thread through the story runs the interests of the Thrale family - victuallers to the monastery and Abbey of St Albans in 1552 and landlords of local inns in succeeding centuries, including "the Read Lyon over agaynst the Crosse, and the Peacocke."

Nomansland Farm , where Ralph Thrale, father and son, lived for many generations
The present St Albans Thrale business of restaurants and cake shops started in about 1898 when Norman Thrale's wife, Hannah, placed sweets in her parlour window for sale: these were soon sold and a business was born.
Says Mr Thrale: "The best epitaph for Hannah is to record that even three quarters of a century after founding the business older local St Albans people still speak in happy terms of her."
The book is packed with facts about the Thrales, their joys and sorrows, successes and failures, strange hobbies and squabbles with formidable landlords - including Sarah Duchess of Marlborough.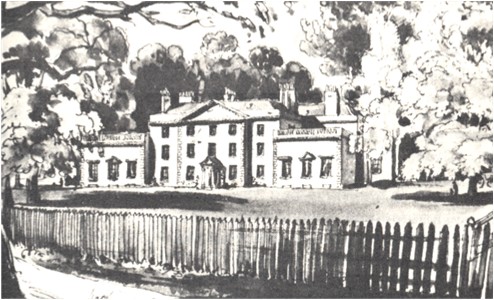 Thrale Place, Streatham, Surrey, home of Henry and Hester Lynch Thrale. Dr Samuel Johnson resided with them until Henry's death in 1781.
CONTENTS

I The Bedfordshire Behinings

II The Two Roberts

III Seventeenth Century Sandridge

IV The Thrales of No Mans Land

V The Golden Era

VI Clogs to Clogs

Sources and Bibliography

Thomas Thrale of Sandridge, Herts (family tree)

Birth Brief of Richard Thrale, of St Albans, Herts

Birth Brief of Odile Thrale née Hoechstetter showing the family relationship with Emile Erckmann

Emile Erckmann (1822-1899) - french writer
---
by Richard Thrale
A4 Hardback, 2005
This is a greatly extended version of the earlier book. The first six chapter headings are the same and the following chapters describe the way the Thrale family moved from farming to business in St Albans.
VII From Land to Commerce

VIII The Thrales of London Road, St Albans

Buildings and Development

Memories

The Last Stretch

IX Growth in St Peter's Street, St Albans

Building, Development and Sale of the Waterend Barn, St Albans

War

Work at the Waterend Barn

X Other Places of Interest

The Quadrant, St Albans

Lockey House, St Albans

Avenue Road and St Peter's Park, St Albans

Cranborne Parade, Potters Bar

Market Place, St Albans

Brief Jottings

The Milling Thrales of Wheathampstead; The Soldiers of Wheathampstead; Sandridgebury; The Foundation of St Albans School; Brocket; American Cousins; Close Relationships; Offley; The Gape family; The Perkins Family and the Anchor Brewery; The French Connection; Blazons.

Conclusions

Charts

Sources and Bibliography

Index
See also The Thrale Family of Sandridge and Right Name, Wrong Body
Locating Books
At the time this page was last updated second hand copies of A New Thraliana could be ordered online. There was a copy of A Newer Thraliana on sale at Paton's Book Shop, Holywell Hill, St Albans.
Page updated March 2007