The Farmer's Almanac and Calendar 1849
(Available from Archive CD Books)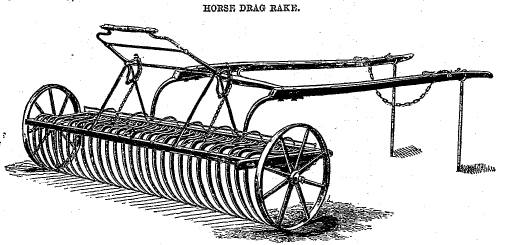 While this is not specifically about Hertfordshire it contains information on a wide range of farming topics - and also quite a lot of interest to the gardener. As most of the people living in Hertfordshire at the time will have some contact with the land and seasonal crops, this allows you to work out the kinds of things your ancestors will have been doing.
. The first 50 pages provide a calendar and monthly activity guide for both the farm and the flower and kitchen gardens. For instance in the kitchen garden in January the book advises:
Artichokes, attend to, shelter. &c. Asparagus, plant in hot-bed - attend to in forcing. Beans, plant b., earth up early ones, plant in hot-bed. Beet, (red) plant for seed. Cabbages, plant c., sow c., plant for seed, Cardoons, attend to, shelter, &c. Carrots, sow small crop, plant for seed. Cauliflowers, attend to those under frames, as also those picked, sow c. Celery, earth up, shelter, &c. Composts, prepare and turn over. Cucumbers, sow c., prick out. Dung, prepare for hot-beds, wheel on vacant ground. ...
This is followed by a wide variety of tables - such as government statisitcs, weather information and the dates when trees have started to come into leaf in the previous years. There is a chronology of Rural affairs. For instance on 14 July 1822 a dreadful hailstorm caused great devastation in Herts and Essex and 3,487 acres of corn were destroyed or materially damaged. Details are given of agricultural societies, etc., as well as lists of the peers of the realm and members of parliament. There is a long article on manures while over half the volume is adverts - some with illustrations such as the horse rake shown above.
The information (with abbreviations expanded) of the Hertfordshire markets is given below.
Baldock (Friday) March 7, Last Thursday in May, August 5, October 2, 3, December 11, horse, Sheep, show.
Berkhamstead (Saturday) Shrove Tuesday, Whit Monday, October 12.
Bishop's Stortford (Thursday) Holy Thursday, Thursday after Trinity Sunday, October 11, cattle.
Chipping Barnet, April 8, 9, 10, cattle, September 4, 5, 6, cattle.
Hatfield (Thursday) April 23, October 13
Hemel Hempstead (Thursday) Thursday week after Whit Sunday, cattle, September 3, statute, cattle, show, Holy Thursday.
Hertford (Saturday) third Saturday before Easter, May 12, July 5, November 8, horse, cattle
Hitchin (Thursday) Whit Tuesday, Easter Tuesday.
Hoddesdon (Thursday) June 29
Market Street [Markyate] Michaelmas
Pirton fourth Thursday after April 5, fourth Thursday after October 10
Preston first Wednesday in May, Wednesday before October 29, sheep
Redbourn first Wednesday after January 1
Rickmansworth (Wednesday) July 20, horse, cattle, second Saturday in September, November 24, horse, sheep
Royston (Wednesday) Ash Wednesday, Wednesday in Easter and Whitsun Weeks, first Wednesday in July, Wednesday after October 10, horse, sheep, cheese
Sawbridgeworth, April 23, October 20.
St Albans (Saturday) March 25, 26, cattle, horse, statute, October 11
Tring (Friday) Easter Monday, Old Michaelmas day, cattle
Ware (Tuesday) Last Tuesday in April, Tuesday before September 21, horse, cattle.
Watford (Tuesday) Tuesday after Trinity Sunday, August 29, 30, cattle, September 9, statute.
Most of the above towns have a weekly market and most have one or more annual markets/fairs, some of considerable size. If your ancestors did not live in one of the above towns they would almost certainly have travelled to the nearest for the market or fairs.
Page updated April 2005