The Endless Web

John Dickinson & Co. Ltd.

1804-1954

by Joan Evans

Jonathan Cape, London, 1955
England can boast of a number of industrial firms whose record goes back to the Napoleonic Wars; their archives provide material for a continuous economic history of the last century and a half. John Dickinson, a 'character' of volcanic energy, first set up as a manufacturing stationer in 1804, and soon afterwards bought mills for the manufacture of paper by machinery of his own invention, later building others at Croxley and Home Park. The coming of the railways, the introduction of envelopes, and the institution of the Penny Post greatly increased the scope of his business.
John Dickinson's great-niece. Dr. Joan Evans, has celebrated the 150th anniver sary of the foundation of the firm of Messrs. John Dickinson & Co. by writing its history to the present time. An abundance of family letters and diaries, a full documentation from the mills, and the survival of many old photographs have made it possible for her to write a book that will interest social and economic historians as well as students of the history of paper-making,
from the dust jacket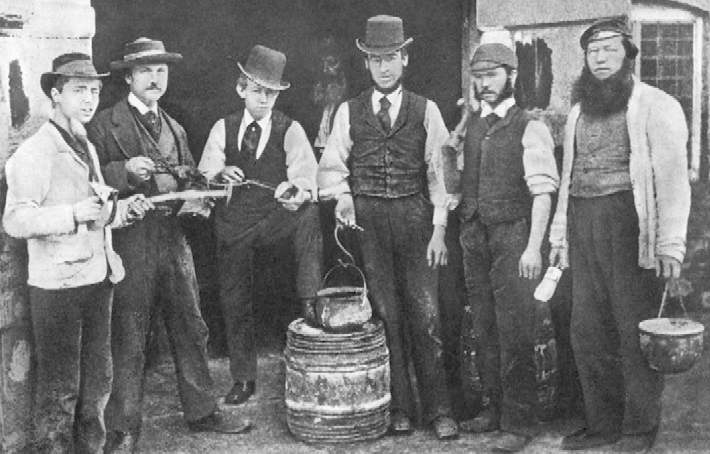 Plumbers and Painters at Apsley Mills circa 1865
John Dickinson's paper mills were a major employer of staff in the Hemel Hempstead area through most of the 19th and 20th century, although they have now closed. To a large extent the area of Hemel Hempstead known as Apsley owes it origins to the paper works that grew up alongside the canal.
This book tells the history of the first 150 years of the company, from a management point of view, and anyone whose ancestors worker there will find it interesting reading. While the main text concentrates on the senior management the pictures include a number of groups of workmen, such as the above, although they are not named. This is made up for by the appendices which name the staff. Appendix "A" lists the names of people working at Apsley Mills in 1823 taken from the notebook of P. Meadows Taylor. Appendix "B" lists the staff employed at Croxley Mill in the 1870's. Appendix "C" is a comprehensive list of employees in April 1881 (which should make it easy to tie in with the 1881 census). The front endpapers give a Dickinson family tree.
~~~~~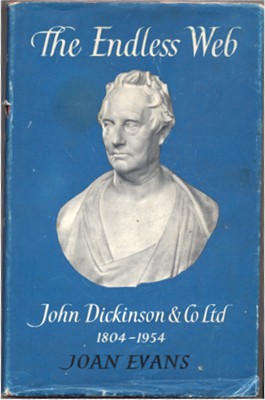 Introduction, by J. W. Randall, Chairman
Preface
JOHN DICKINSON, 1804-9
APSLEY AND NASH MILLS, 1809-23
THE YEARS OF INVENTION, 1817-32
HOME PARK AND CROXLEY MILLS, 1824-36
ABBOT'S HILL, 1836-40
STAMPS AND ENVELOPES, 1837-57
THE FAMILY BUSINESS, 1850-7
TAXATION AND RAW MATERIALS, 1854-80
PARTNERSHIP, 1857-85
THE LIMITED COMPANY, 1886-92
THE END OF THE VICTORIAN ERA, 1892-1901
THE NEW CENTURY, 1901-14
THE FIRST WORLD WAR, 1914-18
R. H. LING, 1918-26
BEFORE THE WAR, 1926-39
THE SECOND WORLD WAR AND AFTER, 1939-54
Appendix A. Note-Book of P. Meadows-Tay/or, 1823
Appendix B. Croxley Mill in the 1870's, by W. A. Stephenson, 1939
Appendix C. Apsley MIll, 1881
Front end papers show Dickinson family tree from 1723
Rear end papers show map of world with overseas branches and factories
Home Branches at Belfast, Birmingham, Bristol. Cardiff, Dublin, Edinburgh, Exeter, Glasgow, Leeds, Liverpool, London, Manchester, Newcastle-upon-Tyne, Notitingham
Home Manufactories at Apsley, Croxley, Home Park, Leighton Buzzard, Liverpool, Nash, Tottenham.~~~~~
See John Dickinson's Paper Works - WW1 casualties
But Where is Doo Little? (re 1881 employees in the census)
See also Occupations: Paper-making
There is a web page for Apsley & Hemel Hempstead
Locating Books
At the time this page was last updated second hand copies could be ordered online
Page updated November 2006