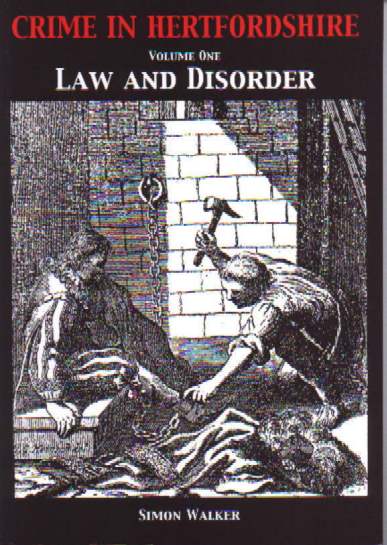 Books on Hertfordshire
Crime in Hertfordshire
Volume One
Law and Disorder
by Simon Walker
The Book Castle, 2002
ISBN 0-903747-13-9, 146 pages, £9.99
If you ancestors were involved with the law you will be certain to find something of interest in the book. It starts by looking at the changes in the law over the centuries, and the organisation of courts and trials. There is a long chapter on punishment which not only includes the types of punishment, but also includes descriptions of the surviving cages, brideswells and prisons. The final chapter is on enforcement - including information on the origins of the Hertfordshire Police Force. There is also a useful glossary, and plenty of illustrations.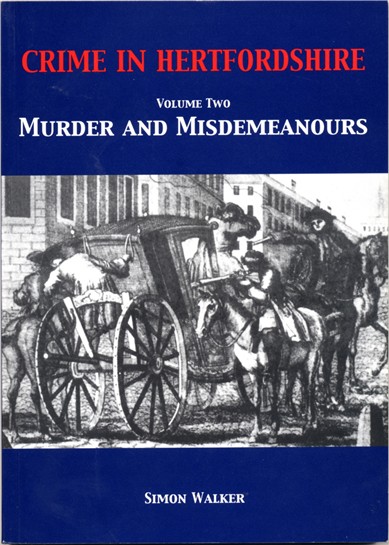 Volume Two
Murder and Misdemeanours
by Simon Walker
The Book Castle, 2003
ISBN 0-903747-28-7, 179 pages, £9.99
This volume is a collection of detailed accounts of crimes drawn from across the county, from 1602 t0 1939. Locations include Hatfield, Hemel Hempstead, Hoddesdon, Berkhamsted, St Albans, Ware, Hitchin, Datchworth and Bishops Stortford - some of the incidents may be familiar, most will be new to the reader. The rape of Maria Wells by her own father, and the publicity given to her testimony in court, was a tragedy for all concerned. Did Jane Norcott commit suicide, or was it murder? Why did Mary Boddy stab five-year-old George Hitch?
Included too are lesser offences, such as theft and poaching, though in the past these have attracted serious penalties in their own right. There is a chapter on highway robbery. Child cruelty, counterfeiting and "riding a horse whilst under the influence of alcohol" all appear in this book.
But this is more than just a collection of bloody crime; it provides an insight into the way in which many of our Hertfordshire forebears lived their lives.
Child Murder in Hatfield, 1602

Jane Norcott & the Bleeding Finger, 1629

The Wicked Deed of Job Wells, Hemel Hempstead, 1753

The Datchworth Tragedy, 1769

Waiter Clibbon, Footpad and Murderer, Bull's Green, 1782

Murder at Hoddesdon, 1807

The Robbery and Murder of William Weare, Elstree, 1823

"Stortford Flames Shall Reach the Skies ... " 1825

John Tawell's Secret, Berkhamsted, 1845

The Murder of Constable Starkins, Norton Green, Stevenage, 1857

"Joe, You Have Done It At Last ... " Jane Castle of Ware, 1859

Murder or Manslaughter? Constable Snow in Bennington, 1871

Love Unrequited: Augusta Wiles and Edward Pindar, Hitchin, 1877

The Murder of Edward Anstee, Marshall's Wick, St Albans, 1880

The Aldbury Gamekeepers, 1891

The Assault on Sarah Dye, Goose Green, Hoddesdon, 1891

"Rotten" Smith and Mercy Nicholls, Hertford, 1899

The Poisoned Cake: Caroline Ansell, Watford, 1899

Rose Gurney, Rickmansworth, 1911

I Suppose they Will Hang Me, and I Deserve it." Mary Boddy and George Hitch, Buntingford, 1911

Death of a Stationmaster, St Albans, 1918

"I Picked up the Gun and Shot Him ... " Ickleford, 1939

Poachers, Poaching and the Twin Foxes

The Wicked Lady: Katherine Ferrers and Other Highway Robbers
Locating Books
At the time this page was last updated new and second hand copies of both books could be ordered online
Page updated November 2007