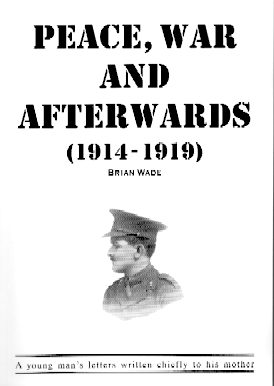 Peace, War and Afterwards
(1914-1919)
by Brian Wade
Sentinel Projects, 1996
When the First World War broke out troops of the London Regiment moved into their war stations in Hertfordshire for training. This is the story of a young man who left South Africa, and was trained in the second wave of recruits, who, as part of the 47th Division, went to the front to replace the dead and wounded.
The book consists of letters Frederick Brian Wade sent home, and is of interest because he arrived in Hertfordshire for training in March 1915, just after the first wave of troops had left for France. Initially he was billeted in Derby House, High Street, Watford, but by the end of the month he moved with the King Edward's Horse to Bishops Stortford, when he wrote:
It is now seven o'clock and at eight I take my turn on guard at one of the stables. I'm writing this near a fire in an old inn called the Boar's Head. There are many such old-fashioned inns in this town one in particular is said to be over six hundred years old. Bishops Stortford is situated about thirty miles due north of London and is a miserable little one-horse place with only one picture-palace and with inhabitants with very provincial ideas, who hardly know what is taking place outside their own circle.
He remained in Bishops Stortford until late in July when the unit move to Ireland, and the book's connections with Hertfordshire ended.
While the Hertfordshire letters have little descriptive material about Watford or Bishops Stortford they give a very good impression of how the troops lived while they were in the county training. If your family lived in the area during the war you may well have had someone like Brian Wade billeted in your house, while if your ancestor joined the 47th Division, it describes the kind of situation they would have found themselves while training.
[The 1912 Kelly's Directory shows that the Boar's Head was at 30 High Street, Bishops Stortford and the landlord was Rt. Markham. It dates from 1630 or earlier and is still there - see Hertfordshire Inns & Public Houses]
There are web pages for Bishops Stortford & Watford
Locating Books
At the time this page was last updated secondhand copies could be ordered online
Page updated August 2010