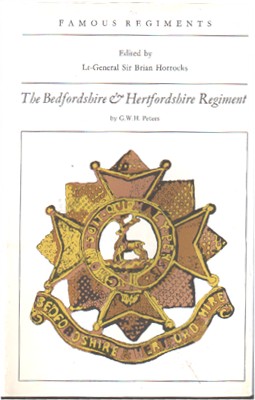 Famous Regiments
The Bedfordshire & Hertfordshire Regiment
(The 16th Regiment of Foot)
by G W H Peters
Leo Cooper Ltd, London, 1970
Beginnings

Marlborough's Campaigns 1701-1713

1715-1895

The South African War

The Great War

Between the Two World Wars

The Second World War 1939-1945

Epilogue
| | |
| --- | --- |
| | Armoured train manned by 1st Bedfordshire and Hertfordshire Regiment, Shanghai, 1928 |
Extract from Chapter 5
On July 31 [1917] the 1st Hertfords attacked at St. Julien over sodden and heavy ground. This time they were victims rather than beneficiaries of higher planning. To begin with the new support weapon, the tank, was a failure. All four got bogged down on the start line and were ineffective. Nevertheless the attack started well and the first belts of wire were negotiated fairly easily. But when the guns tried to get forward to continue the barrage against enemy support trenches they too were unable to move. The whole Battalion was left in the open with uncut wire in front of them. The few men who got through were killed. The rest just 'took it'. The Battalion had some 470 casualties and were brought out by their Padre, the Reverend E. Popham, the only officer left. Popham was awarded one of the four MCs—his second. Lieutenant-Colonel Page, who had done so well on the Ancre was killed.
The Battalion Diary seems to have gone to the limit of tolerance. It remarks that:
'The 1st Hertfords' luck was to change. They were held up by wire and cut to pieces by machine-gun and rifle fire, in an action which many thought was not very well directed by the higher command.'
It depends what you mean by luck. Taken together the Ancre and the St. Julien battles provide plenty of food for thought for those who aspire to some understanding of the art of war.
Locating Books
At the time this page was last updated second hand copies could be ordered online
Page updated August 2010