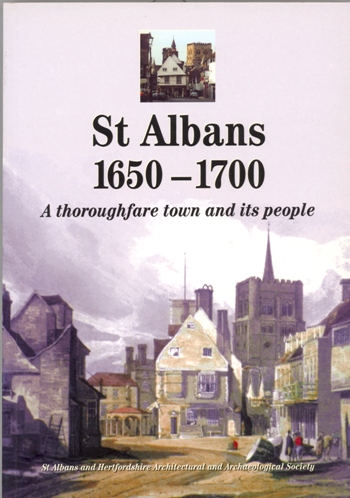 St Albans
1650-1700
A Thoroughfare Town and its People
St Albans & Hertfordshire Architectural & Archaeological Society
Edited by J T Smith and M A North
Hertfordshire Publications - 1st Edition 2003
Softcover Book, 24.5 * 17 cm, 264 pages, with pictures and maps
From the cover:
What kind of town was St Albans in the late seventeenth century? What did its streets and churches and houses look like? How big was the population and was it growing or shrinking? How did people earn a living and what was the social structure? What were their religious beliefs and political attitudes? These are some of the questions that a research group supported by the St Albans and Hertfordshire Architectural and Archaeological Society has answered in twelve chapters by ten contributors, edited to ensure consistency and plentifully illustrated to convey the appearance of the town at the time.

Several features of the book are unusual in local history writing. Population statistics include an age profile, age at marriage, size of family, crisis years and age at death - with an astonishing infant mortality. Architectural evidence, used to link the death rate to overcrowding caused by intensive development of the town centre, also demonstrates improvements in comfort and amenity and responses to fashion. The social structure and some typical families are described in detail, as is the administrative structure and its workings at both corporation and parish level. The economic background is that of a thoroughfare town, as much dependent on road transport as on its market function.

A large database revealed an unusually high proportion of nonconformists and a surprising degree of co-operation between them and the established church, despite the very public murder of one of their number by an ex-Cavalier officer. A tentative explanation is also offered for an equally surprising political change - how the corporation of St Albans, staunchly Cromwellian in outlook in 1650, came, in little more than a generation, to support James II's policies in 1685.

This is a scholarly book that will appeal to historians and general readers alike.
The Town Hall

On the corner of Dagnall Lane

from a drawing by Oldfield

Circa 1800
Contents
CHAPTER1 THE TOWN AND ITS HISTORICAL SETTING
The skeleton of the town; topography and administrative areas; the condition of the town; landownership around the town; St Albans and the Civil War
CHAPTER 2 SOCIAL HISTORY IN ARCHITECTURE
Interior improvements; houses in and around the market area; gentry houses; public buildings: the parish churches; chapels; the town hall; in the market place; inns: the legacy in 1650; a major inn and its appointments: the White Hart; side-entrance inns; forms of enlargement; where did the poor live?
CHAPTER 3 THE BOROUGH
The Burgesses or Freemen; the Mayor, Principal Burgesses and Aldermen; the Assistants, the Wardens of the Companies and the Bailiffs; other Officers; the Charters of 1664 and 1685; property; income and expenditure
CHAPTER 4 THE PARISH AND THE POOR
The vestry; the churchwardens; presentment on religious grounds; upkeep of the church: the fabric; the bells; upkeep of the fittings; the keeping of accounts; the costs of establishment; churchwardens' duties; the poor law; the poor rate; support of the poor; one poor boy; rent payments; sickness; almshouses and charities
CHAPTER 5 ESTABLISHMENT VERSUS DISSENT: FROM CONVENTICLE TO CHAPEL
From Reformation to Restoration; after the Restoration; occasional conformity and social stability; persecution and toleration; nonconformist groups in 1669 and after; how many nonconformists? who were the dissenters? the established church
CHAPTER 6 POPULATION, FAMILY RECONSTITUTION, OCCUPATIONAL STRUCTURE
Estimating the total population; population structure in 1675; the family; marriage; remarriage; the family: children; household size; age at death; place of burial; seasonal fluctuations in baptisms, marriages and burials; population reconstruction and the occupational profile; trades and professions: some comparisons; conclusion
CHAPTER 7 THE ECONOMY: THOROUGHFARE TOWN AND MARKET TOWN
Waggon and and pack-horses; transport in Charles II's reign; the market town: its catchment area; the operation of the market; regulation of the market; from workshop to retail shop; trade outside the market; production in advance of demand; the changing economy
CHAPTER 8 THE SOCIAL STRUCTURE: GENTLEMEN AND MERCHANTS
Landed and armigerous gentry; post-Restoration gentry; civic and professional gentry; mealmen; millers; maltster ; brewers; mercers and drapers; tanners, curriers and fellmongers; lathrenders; ironmongers; cutlers and pewterers; chandlers and grocers
CHAPTER 9 THE SOCIAL STRUCTURE: TRADERS AND ARTISANS
Innkeepers; coachmen; butchers; bakers; tailors and ancillary trades; cordwainers and shoemakers; glovers and saddler; carpenters and joiner ; wheelwrights and coopers; blacksmiths, locksmiths and farriers; braziers, plumbers and glaziers; bricklayers and painters; gardeners; labourer; the leisure trades: books and tobacco; the Liberty gaoler
CHAPTER 10 TEN FAMILIES
The Coxes; the Arris family; Jonathan Lomax; the Gapes; the Cowleys; the New family; the Kinder; the Carters; the Aylewards; the Marshalls
CHAPTER 11 DAILY LIFE
Children; education; domestic life and work; where did widows and spinsters live? servants' leisure and entertainment; books and reading; changes in furniture and manners
CHAPTER 12 CONCLUSIONS
APPENDIX LIST OF MAYORS 1650-1700
Bibliography
Index
There is a web page for St Albans