A collection of photographs in the Archive Photograph series.
The small market town of Buntingford occupied an important site on what was the old Ermine Street, the busy north-south route that carried the early travellers between London and Edinburgh. It thus took on the role of a trading village for many of the rich estates that occupied this corner of north-east Hertfordshire from the twelfth century. Charters exist for the holding of markets and fairs in Buntingford.
This fascinating collection of over 200 old photographs shows scenes in the town's streets and social activities from an age that has now gone and yet some of these scenes will be familiar to many of its residents. Thus, not only does this collection of old images include Victorian and Edwardian Buntingford but also much later records too, particularly of social activities, from the post-war years.
This appealing sequence of photographs, which embraces examples from many of the nearby villages as well, including Aspenden, Westmill, Throcking and Wyddial.
The Heart of Buntingford

Church and School

Houses and Other Buildings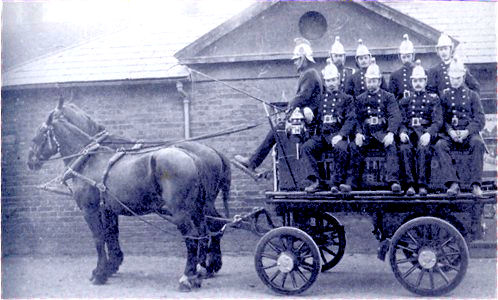 Fire Brigade at a contest at Hoddesdon circa 1910
At Your Service!

Sporting Activities

Recreation and Leisure

Trade and Industry

Places of Refreshment

Occasions and People

Buntingford at War

Round the District
This book shares the advantages and disadvantages of the other books in the series: excellent photographs of a variety of subjects, only very short descriptive texts, and no index.
There is a web page for Buntingford
Locating Books
At the time this page was last updated second hand copies could be ordered online
Last updated August 2005