Sugar Mice and Sticklebacks
Childhood Memories of a Hertfordshire Village Lad
by Harry Edwards
The Book Castle, 1998, ISBN 1 871199 88 3
Paperback, 21*15 cm, 72 pages, 16 photographs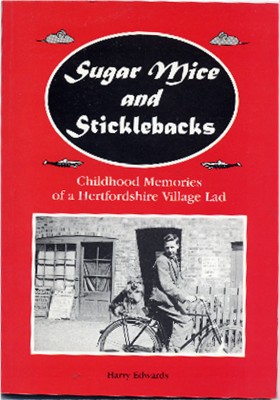 This is a personal account of life in Hertingfordbury as seen by a schoolboy during the 1930s, and is illustrated by a number of photographs, some at least being taken later than the period written about.
There is a fault, which is common to many such memoirs, and that it does not say when the writer was born, which can make it hard to correlate with events elsewhere in Hertfordshire. Fortunately two events are mentioned which are accurately datable. His earliest memories was seeing the airship R100, which was mothballed after the crash of the R101 in 1930. The book ends with puberty and the outbreak of war in 1939. There is also no index.
Chapter Headings:
The Village
My Home
The School
The Church
The Flyers (relates to the nearby de Havilland factory)
The "White Horse"
The River
The Cricket Field
The Railway Station
Sunday School
The End of Childhood.