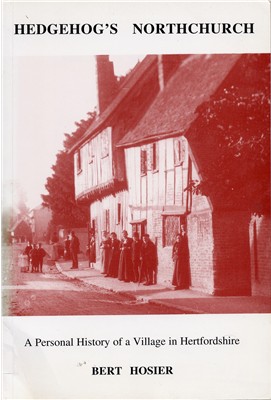 Hedgehog's Northchurch
A Personal History of a Village in Hertfordshire
by Bert Hosier
[Author] 1994, ISBN 0 9522882 0 6
Paperback, 23.5*15.5 cm, 118 pages, plenty of photographs
Bert was born in nearby Aldbury in 1928 and this dates his interesting personal memories.
Sections entitled: Early Days; The Brickyard; The Travellers; Growing Up; Schooldays; Northchurch Remembered; The Big Houses (Northchurch House, Lagley, Edgeworth House, Woodcock Hill); The Common; Fireside Reflections; The Allotments; Church, Chapel, School; Agriculture; The Roadman; Word for Word (Field Names and Boundaries, Local Dialect); Country Conversations; A Boxing Day Reverie; Sporting Activities; At the Site of the Puddingstone; Birds; Village Policemen; The Making of Local History.
There is a useful index.
There is a web page for Northchurch
Last updated November 2004