This attractive book reprints about 40 different accounts of Christmases spent in Hertfordshire. Titles include Haunted Abbey, Puckeridge Hounds, Memories of Bernard Shaw, Young Entertainers 1894, Carols at Rooks Nest, Ware in the 1830's, Journey to Bygrave and Christmas Past in Buntingford.
I must express an interest as All Leave Cancelled is based on an article I wrote for Hertfordshire Countryside and reproduced on this site as A Military Christmas in Hertfordshire.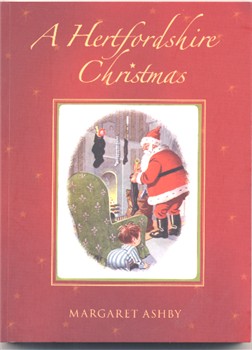 The book is a great read, and paints a picture of the different ways Christmas has been celebrated in the past. However the lack of an index makes it harder to find out whether the town, village, or family you are researching are mentioned.
======================
A second edition has been published in 2005 by Tempus Books, ISBN 0-7524-3679-1. It contains some of the old items (with new pictures) and some completely new items and if you haven't got the first edition this is well worth having.
Locating Books
At the time this page was last updated second hand copies of the first edition could be ordered online
The second edition may be obtained from good bookshops at £9.99 or for £10 post free from the author on m.m.asbby @t ntlworld.com
Page updated October 2005