A History of Hoddesdon
in the County of Hertfordshire
Being a Survey of that Hamlet from the earliest times. with an account of its ancient manors and its inhabitants
J. A. Tregelles
Stephen Austin & Sons, Hertford, 1908
Hardback, 454 pages, 20 Plates, some line drawings in the text, 3 fold out maps.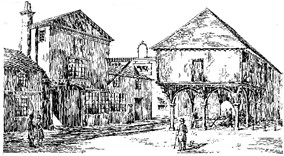 Sections on the geology of the district, the woodlands, early inhabitants, the records, the common meads, roads and ways, family history, family names, the Chapel, Church Calendar, Congregational Chapel, The Free Grammar School, Market and Fair, Mills, local industries and handicrafts, charities and benefactions, Chronicle.
Includes a street map of Hoddesdon in 1850
For an extract, and photograph, from the book see Rathmore House, Hoddesdon.
There is a web page for Hoddesdon
Locating Books
At the time this page was last updated second hand copies could be ordered online for about £70
Page created January 2006