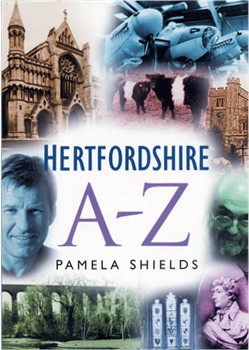 Books on Hertfordshire
Hertfordshire A-Z
Pamela Shields
Sutton Publishing, 2005
Paperback, ISBN 0 7509 4250 9
So where would you find a Hertfordshire Spike?
Why was Charles Dickens at Hatfield House in 1835?
Where, and why, does the New River flow?
What was Stanley Kubrick's connection with the county?
This book looks at a large number of topics - towns and villages, famous people, events, etc, associated with Hertfordshire. It is not designed to be read from cover to cover and is what I would call a fun book, designed to educate when the adverts come up on the television. You open the book at random and read an entry or two, and you are almost certain to find some entertaining facts you didn't know about. I am definitely going to enjoy my copy of this book.
Locating Books
At the time this page was last updated new copies could be ordered online, and it should be available through any bookshop.
Page created December 2005