The Guiding Stars
Concerning a small Hertfordshire village
[Lilley - between Hitchin and Luton]
Roy Pinnock
Roy Pinnock, 1970
Paperback, 20*13.5 cm, 81 pages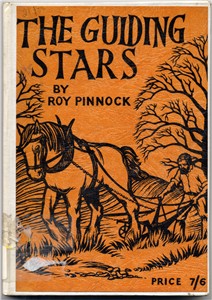 FOREWARD
This book concerns a small village called Lilley in, Hertfordshire, lying between Luton and Hitchin; but it could be about almost any village anywhere, for in the period covered rural life was very similar, whether in the Home Counties or the North of England. The story I have tried to tell deals with village life mainly from 1868, when the Rev. A. C. Haviland was appointed to the living of Lilley (although Vestry records from 1802 are quoted), until Miss Esther Cundall died. As its theme, it depicts a way of life of far more benefit to mankind, in my humble opinion, than today's "rat race"; for the most part a story of ordinary people, not endowed with an abundance of this world's goods, perhaps, but mostly rich in faith, simplicity and honesty. A large part of the book consists of memories and their accuracy cannot be vouched for: neither have I made any effort to do so. They are recorded as they were related to me. Many more stories than I have told could be related: yarns that only country people can tell, and I hope, at some later date, to write a book bas('<i on these country tales. At the moment finance is the reason for their exc1usion.
Roy Pinnock. Inglenook. Lilley. 1970.
CONTENTS:
Foreword;
Life through the Vestry;
The Norman Church of Lilley;
Rector Haviland - A New Church;
The Village Blacksmith;
Transport;
Background;
Mainly Topographical;
Domestic;
Entertainment;
Employment;
Children;
Recreation;
Local Dialect and Lore;
Lilley's Three Inns;
Lords of Lilley Manor;
The Parish Council;
Village Characters.