Aspects of Nineteenth Century Watford
by Watford WEA
Published by Watford WEA, 1987
Paperback, 100 pages
This is one of the very useful outputs from practical local history courses by Workers Educational Association groups in Hertfordshire.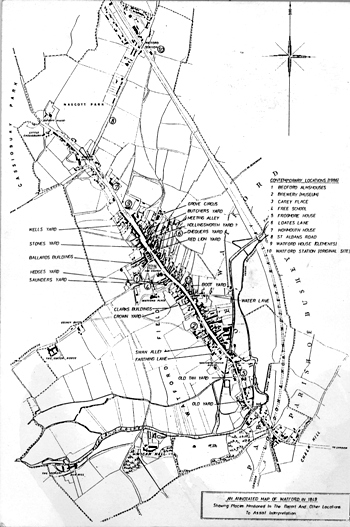 CONTENTS
Introduction - A View of Nineteen Century Watford

The Watford Heath Cookery School: 1875-1881

Henry Morton Turner, Solicitor 1845/6-1913

The Metropolitan Asylum for Pauper Imbeciles at Leavesden

The Beginnings of the Watford Union Workhouse (Parts I & II) 1835-1838

The Rose and Crown in the Nineteenth Century

The Chartists at Watford and Herongate

Crime & Punishment in Watford, 1871 and 1891

The1841 Census: A Description of the Agricultural Community in the Watford Parish
Several of the articles include maps or plans, and the rear cover has an annotated map showing Watford as it was in 1849. (see detail).
There is a web page for Watford
Locating Books
At the time this page was last updated I could not find second hand copies online
Page created September 2007