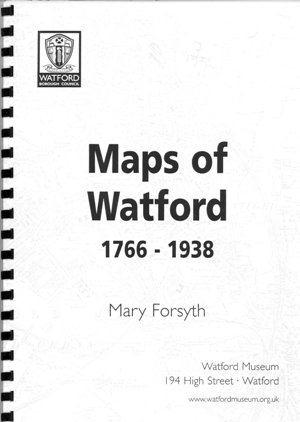 Books on Hertfordshire
Maps of Watford
1766-1938
by Mary Forsyth
Published by Watford Museum, [circa 2005]
A4 booklet - 12 maps and brief introductory text. No ISBN
The maps in this booklet demonstrate very clearly how a town which was little more that a row of properties along a main road expanded over the years, There are two sets of maps.
At 2 inches to the mile, showing the parish there are maps from Dury and Andrews (1766), Ordnance Survey of 1805, 1822, and 1862, and Footpath Association maps of 1902, 1920 and 1938.
The town centre is shown at 6 inches to the mile, starting with a Board of Health survey relating to the sanitary arrangements in 1849, and followed by Ordnance Survey maps of 1871, 1899, 1920 and 1938.
There is a web page for Watford
Locating Books
At the time this page was last updated copies could be purchased from Watford Museum
Page created September 2007