Mr. Ellis of Little Gaddesden, whom the reader is here privileged to meet, would have needed no introduction to his contemporaries. He was, and he deserved to be, a best-seller. Even after hi death his work continued to be published, with 'all his gypsies, wenches, thieves, rogues, etc., discarded, and his old woman's tales thrown aside' .
Mr. Bell has restored this rich and robust company to life, and brings them among us either in Ellis's inimitable living prose or in his own words; supplemented by the more sober contemporary record of Peter Kalm, the Swedish visitor who came intending to sit at ElIis's feet.
The result is that we are presented with a picture of people of flesh and blood, and of all the scenes, sounds and smells of an eighteenth-century village. Hogarth portrayed one aspect of eighteenth-century England, Walpole another, and Fielding a third. Here the English villager is seen, as never before, from within and in the most intimate and revealing detail.
The social historian may find here much to interest and surprise him. The student of agriculture must find this story of a pioneer intensely fascinating. But above all, the general reader will find it sometimes hilariously amusing, sometimes a little horrifying, but always of gripping interest.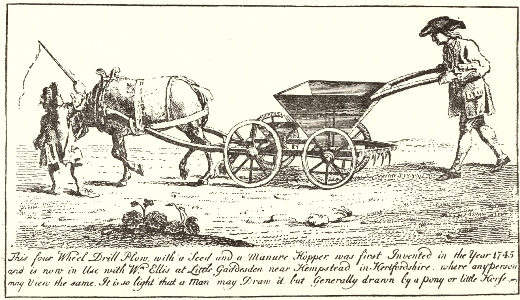 'The short and simple annals of rich and poor alike go into this story of an English parish through the centuries of history. A tiny village, only thirty miles from London but off the beaten track, Little Gaddesden can have changed little since the legions of imperial Rome by-passed it on their way to found Verulamium nearby . . . . A fascinating book, a miniature of England's history. Britons, Romans, Danes, Saxons, Norman French, Tudors and Plantagenets and the columns of Cromwel1, went by on the north-west road. Little Gaddesden drowsed, worried about parochial affairs, and chronicled small beer. The chronicling was fortunate for us of later days. Mr. Bell has dipped into dozens of the old records, each more fascinating than the last.' New Statesman and Nation
'Any story of an English village is a history of England in epitome. Vicars Bell ... is the schoolmaster of Little Gaddesden . . . and he has delved in the records of his parish and produced a fascinating book. He has a fine gift for research, a nose for legend and an ear for the more amusing kind of historical gossip.' The Daily Te1egraph
'This is how local history should be written and produced ... there are good things here in plenty.' Thec Schoolmaster
see also The Practical Farmer and Pehr Kalm: A Finnish Visitor to the Chiltern
Locating Books
At the time this page was last updated second hand copies were available online
Page created August 2008