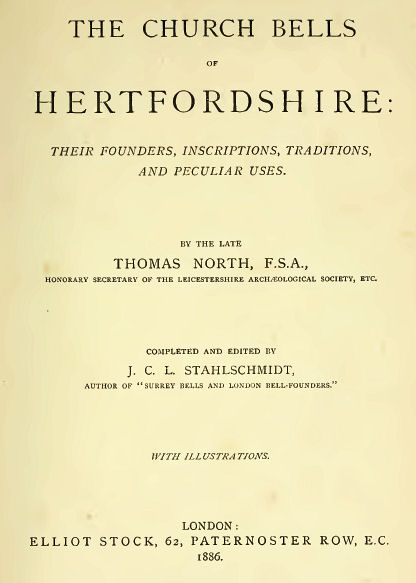 The
Church Bells
of
Hertfordshire
Their Founders, Inscriptions,
Traditions and Peculiar Uses
by the late Thomas North
completed and edited by
J.C.L. Stahlschmidt
Elliot Stock, Paternoster Row, London
1886
Contents
Chronological account of the bells in the county and their founders

Local Uses in Hert

Ringing in Herts

Historical account of the Bells at St Albans Cathedral

Detailed Account of all the Bell Inscriptions in the Parish Churches in Alphabetical Order
Index
This book is obviously of interest if your ancestor was a bell founder, named on a bell, or a bell ringer. In addition, whoever your ancestor was, they would have heard the bells ring out in their local parish church - and they probably rung a merry chime when they were married - and tolled when they died.
To illustrate the contents of the book I have selected a couple of paragraphs from "Local Uses in Herts" relating to the parish of Tring - and I have also listed the inscriptions (but not the size) of the Tring bells from the "Detailed Account" for the parish.
Of Early Ringing on Week-days (The morning Angelus bell) no instances have survived until now. There are, however, records of a bell being rung at four a.m. at the following places:- Hitchin (the tenor), Tring (3rd), Baldock (3rd), called the "Malt-makers'" bell, Ashwell (supposed to be to call the horse-keepers up to feed their horses), and Bishop Stortford. The larger bell in the Clock Tower in St Albans town was also rung at this hour. ...

"Fire" Bell:- This very obvious use for one or other of the church bells seems to have almost died out. The second bell at Tring is called the "Fire" bell; but whether it is actually now used as an alarm is not stated. The 5th is rung at Ashwell, and this seems to be the only example in the county of a church bell being used for this purpose. The bells in the town clock towers at St Albans, Layston, and Hoddesdon of course are so used. ...

The foundry mark of Robert Oldfield, of Hertford, who made bells 5, 6, & 7

TRING

SS Peter and Paul 8 Bells

Blessed are the people who know the joyful sound 1882
I was glad when they said unto me let us go into the House of the Lord 1822
On part of this bell was giveen by mani men 1636
Christopher Bewley and Edward Foster Churchwardens 1752 Thomas Lester & Tho: Pack of London fecit
God Save the King 1625
Praise the Lord 1624
Sonora Son Meo Sono Deo 1624
Chandler made me 1695

In 1552 there had been "v belles in the Steple wth a Saune Bell." These had been increased to "a good ring of six" prior to the year 1700. In 1881, the bell frame being considered unsafe, and the bells having only been chimed for some time, it was determined to have them rehung. Accordingly on the 24th of October in that year, they, as they were chimed for the last time, and on the following day the ropes were removed and preparations made for lowering the bells into the ringing chamber, where they remained until new frames were prepared, and their two new companions (the present 1st and 2nd) were cast by Messrs. Gillett and Bland, of Croydon. The augmented ring of eight bells was opened on the 1st of April, 1882. ...
Page created January 2009