The Militia Ballot lists contains the names of men aged between 18 and 45 who were eligible for service in the militia forces. There is a very significant survival of these lists in Hertfordshire for the years 1759 to 1786 and in some cases to 1801. While they do not include everyone (or even all the men) they are a very useful guide to who was living at the village at the time.
Over the years the Hertfordshire Family History Society has indexed these lists, in published them in booklet form, parish by parish. All have now been indexed and this CD contains all the booklets in a fully searchable form, together with useful background information and lists for the Militia Establishment for 1759, 1761-2 (partial) and 1765 (Dacorum). A valuable extra is a map, for each parish based on Dury & Andrew's survey of 1766 while the map showing the location of all the ancient parishes, and the hundreds, is the clearest I have seen. The "miscellaneous additional information" records the movements of the Hertfordshire militia - and information on out-of-county militia marriages.
Example 1: Flamstead Booklet - Burchmore Entries
Covering the years:

1758? (undated but inferred), 1759, 1760, 1761, 1762F (February), 1763, 1764, 1765, 1768, 1769, 1775, 1778A (April), 1778D (December), 1781, 1782, 1784, 1785, 1786
BURCHMORE
Also spelt BIRCHMORE, Byrchmore
1785
George
BURCHMORE
Flamstead
Yeoman
1786
George
BURCHMORE
Flamstead
Yeoman
1786
George
BURCHMORE
Flamstead
Shepherd
One Eye
1758?
Thomas
BURCHMORE
Flamstead
Farmer
1759
Thomas
BURCHMORE
Flamstead
Farmer
1760
Thomas
BURCHMORE
Flamstead
Farmer
1761
Thomas
BURCHMORE
Flamstead
Farmer
1762F
Thomas
BURCHMORE
Flamstead
Farmer
Surveyor
1768
Thomas
BURCHMORE
Flamstead
Farmer
4 Children
1769
Thomas
BURCHMORE
Flamstead
Farmer
4 Children
1775
Thomas
BURCHMORE
Flamstead
Farmer
5 Children
1778D
Thomas
BURCHMORE
Flamstead
1784
Thomas
BURCHMORE
Flamstead
Farmer
1785
Thomas
BURCHMORE
Flamstead
Yeoman
1786
Thomas
BURCHMORE
Flamstead
Yeoman
1758?
William
BURCHMORE
Flamstead
Labourer
1759
William
BURCHMORE
Flamstead
Labourer
1760
William
BURCHMORE
Flamstead
Labourer
1763
William
BURCHMORE
Flamstead
Servant
1764
William
BURCHMORE
Flamstead
Servant
1765
William
BURCHMORE
Flamstead
Servant
1768
William
BURCHMORE
Flamstead
Servant
1781
Thomas
BURCHMORE JR
Flamstead
Example 2: Search for Occupation - Brickmaker
A text search for "Brickmaker" showed that there were 39 documents (parishes) with 276 entries. The parishes were Aldenham, Baldock, Barkway, Chipping Barnet, Broxbourne, Bishops Stortford, Bushey, Cheshunt, Essendon, Great Gaddesden, Harpenden, Hatfield, Hemel Hempstead, Hertford, Hitchin, Hoddesdon, Kings Walden, Layton, Little Amwell, Little Hadham, North Mymms, Northaw, Offley, Rickmansworth, Ridge, St Albans (Fishpool Ward & St Peter's Ward), Shenley, St Paul's Walden, Stanstead Abbots, Standon, Stevenage, Tring, Walkern, Watford, Welwyn, Weston, Wheathampstead, Wigginton. For each parish it is possible to look at the relevant entry.
It is important to look for variants - for instance a search for "Brick Maker" fins additional entries for Ware (surnames Hitch, Hobbs, Osborn, Smith & Want) and Pirton.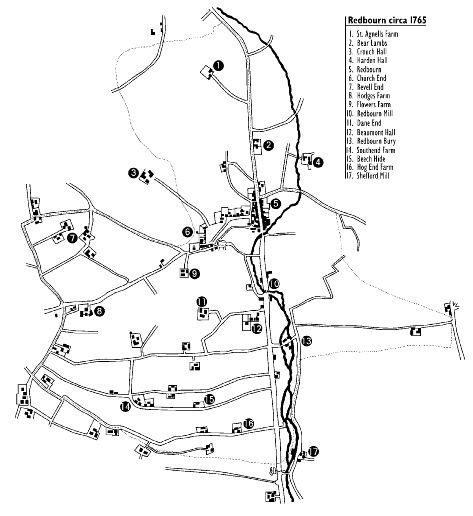 Example 3: Surname Variations
There is a very useful index of surname variations. Following up cross-references the variations listed for BURCHMORE are Birchmoor, Birchmore, Bortchmore, Burchmer, Burchmoar, Burchmore, Burchmors, Burtchmore, Byrchmore. A locations list shows entries entered under Burchmore for Abbots Langley, Flamstead, Harpenden, Kensworth, Offley, St Albans (Fishpool), St Peters (Sleap & Smallford).
Example 4: Parish Maps
There are excellent maps of each parish, based on Dury and Andrew's map of 1766, with a key of the main locations. The example here shows Redbourn, which shows the main farms and hamlets.
Other Examples
Paper Makers of Hemel Hempstead
NASH (Blacksmiths), West Hertfordshire, from 1750
See Also Militia Lists