The Antiquarian and Topographical Cabinet
Published W. Clarke and J. Carpenter in 10 volumes, London 1805-11
Volume VIII published in 1810
It is available on Google Books
The book is arranged with alternate prints followed by two pages description and Volume VIII contains pictures and text relating to Hertfordshire, Bedfordshire (a long piece about Dunstable Priory), Northamptonshire, Rutland, Leicestershire, Lincolnshire
The account of St Albans (see extract below) was clearly a contemporary account. It was followed by a longer account on the Abeey which was based on the very much longer account in Brayley's Beauties of England and Wales.
The picture of the Eleanor Cross at Waltham Cross shows the quality of reproduction of the engravings in the Google Book. The other engravings on this page come from hand coloured original prints and a larger image can be obtained by clicking on the picture.
Locating Books
Warning: Volume 1 is available on a "print on demand" basis and many of the online adverts do not indicate whether they are Volume 1 or the full set! Copies of the original volume VIII are likely to be very rare.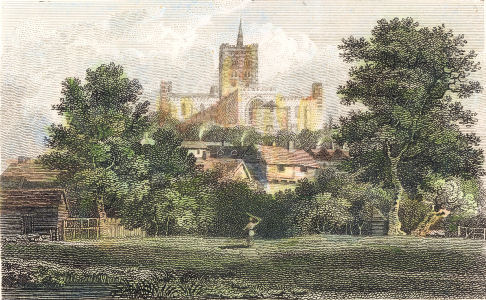 St Albans Abbey Church, Hertfordshire
Engraved by J. C. Smith from a drwaing by G. Shepherd ... 1807
Sample Extract
St. Alban's
Hertfordshire
St. Alban's is a considerable borough town, distant twenty-one miles from the metropolis. It was first incorporated by a charter of Edward VI, but the forms of the original grant have nee at different periods in many respects altered. The government is now vested in a mayor, twelve aldermen, twenty-four assistant burgesses, a high steward, recorder, town clerk, coroner, &c. The first returns to parliament were made in the thirty-fifth of Edward I. The representation was afterwards interrupted till the reign of Edward VI.; since which the returns have been regular. Considerable improvements have been made at St. Alban's within the last twenty years; among which is a new road through the south-east part of the town, by which some abrupt and dangerous turnings have been avoided; and by an act of parliament passed in 1804, many of the streets have been paved and lighted. A great influx of business is occasioned by the almost continual passage of travellers through the town; and employment is afforded to the poorer inhabitants by the establishment of two breweries, a cotton manufactory, and a silk mill; the last is on an improved construction, and promises to be very successful. Here are a town hall, several free-schools, a market-house, and a market-cross. The cross is supposed to stand upon the exact spot where Edward I. had built one of those rich and elegant crosses in memory of his beloved spouse Eleanor. St. Alban's is particularly remarkable for its venerable abbey-church; an account of which, with several views, will be given in a subsequent number.
The country in its vicinity presents a delightful scene, being richly wooded and enlivened by a great number of handsome residences, besides many seats of the nobility and gentry, among which is Holywell House, the residence of the dowager-countess Spencer.
Verulam, from which St. Alban's derives its origin, was, according to Roman historians, of greater antiquity than even London itself. Under the Roman dominion it acquired the dignity of a free city. This honour was conferred on account of the assistance it afforded to the Roman arms: which attachment drew upon it the resentment of queen Boadicea, who, with a large army of Britons, sacked the city and slaughtered most of the inhabitants.
A few fragments of the ancient walls are still to e seen. A comprehensive view of its primitive splendour may be found in Spenser's Ruins of Time:
High towers, fair temples, goodly theatres,
Strong walls, rich porches, princely palaces,
Large streets, brave houses, sacred sepulchres,
Sure gates, sweet gardens, stately galleries,
Wrought with fair pillars and fine imageries;
All those (O pity !) now are turned to dust,
And overgrown with black oblivion's rust.