The book, which was issued by an art gallery prior to an exhibition of Samuel Lucas's work, contains a lengthy biography, details of exhibited works between 1830 and 1861 at the Royal Academy, British Institution and the Society of British Artists.
The Bibliography shows that a much of the information comes from manuscripts in the Lucas family, or in the possession og the author.
There is a useful index of people and places mentioned in the biography.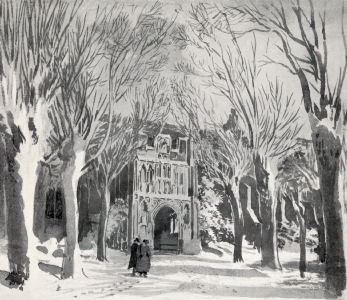 South Porch, Hitchin Church
Samuel Lucas came from a family of Hitchin brewers. He was born (and died) in the Tile House, Hitchin, and was educated at the Society of Friends school at Bristol where he began a life-long interest in art. He was apprenticed to a ship owner at Southwark to learn business skills and his first painting was hung at the Royal Academy in 1828. He returned to work in the family brewery in 1834, with his brother, William, but later "retired" to the family farm at Orton Head. He was a leading Quaker who played an active role in the life of the town.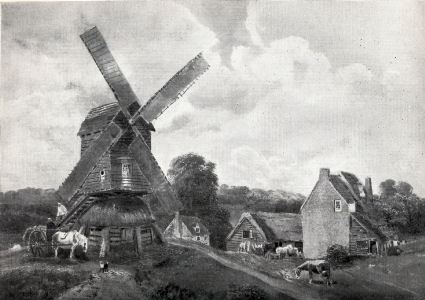 Corey's Mill, near Stevenage, 1864