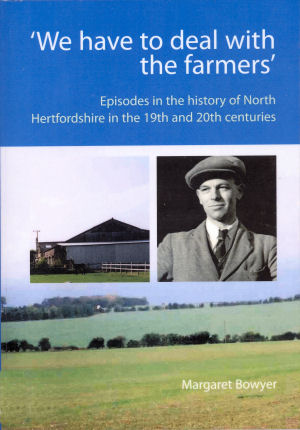 'We have to deal with the Farmers'
Episodes in the history of North Hertfordshire in the 19th and 20th centuries.
Margaret Bower
EAH Press, 2010
This book contains a number of well written student essays on a variety of subjects. These include the effects of the education Acts in the 19th Century, the management of Hertfordshire County Council Smallholdings in the early 20th century. There is material of particular interest to people researching the villages of Willian and Aston.
'We have to deal with the farmers who ... are not enthusiastic about the smallholder system.'

This selection of essays on local history has been chosen to illustrate how various Parliamentary Acts and other Government legislation were worked out in practice at the lower levels by County Councils, Urban and Rural District Councils.

There are examples of how two Hertfordshire communities (Hitchin and Aston) were affected by the 1870 Elementary Education Act and the earlier, 1833, Roebuck Bill which provided the first state support for schools. Work opportunities for women and children changed when the Poor Law Amendment Act was passed in 1834, leading to the rapid growth of the straw-plait industry in Hertfordshire. The main essay, entitled Hertfordshire County Council Smallholdings, 1908 to 1926, provides evidence not only of the Government's commitment to agriculture and rural communities through the Small Holdings and Allotments Bill of 1908 and the later Land Settlement Act (1919), but also of the dedication of the local County Council sub-committee, who had to make the scheme work in their own particular area. The rural theme can also be recognized in the studies of two small village communities (Willian and Aston) in the late 19th and early 20th centuries, and in the observations made in a local farmer's diary for the year 1938.

All the essays (with the exception of the 1938 Farmer's Diary) were originally submitted to the University of Cambridge Institute of Continuing Education. The Certificate of Higher Education (Combined Historical Studies) was awarded in October 2007.

Contents

Acknowledgments 
Foreword 
Introduction 
Employment Opportunities for Women and Children During Industrialisation 
Elementary Education in 19th century Hertfordshire 
Willian in 1881 
The Village of Aston in the Edwardian Period 
Hertfordshire County Council Smallholdings 1908-1926 
Hertfordshire County Council in the 1920s and 1930s 
Daily Life on a Hertfordshire Farm in 1938 
Children in Care in Twentieth Century Hertfordshire 
Bibliography 
Index