Sample photograph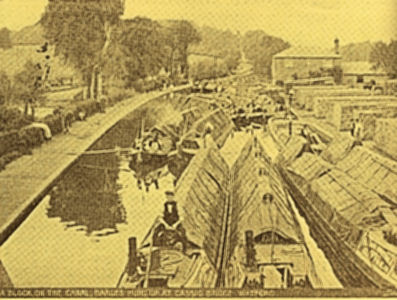 Boats held up at the timber wharf. A postcard, the date on the postmark is 1907. The Metropolitan Railway viaduct has not yet crossed the valley. The viaduct was built prior to 1921. Today the view is still busy, at least in the summer when the pleasure boats are out
Introduction
The Village
Trussauds at Croxley
From the Air
Cherry Ripe
The Green
Royal Occasions
Going ... going ... gone
The Windmill
The Canal
Getting about
War!
Homes fit for heroes
The happiest days of your life
Plague Cottage
Durrants
All Saint's Church
New Road
Baldwins Lane
Time for a pint
There once was a road through the wood ...
A very good selection of photographs, but the quality of reproduction leaves something to be desired, and the text descriptions are often minimal.
Locating Books
At the time this page was last updated I was unable to find second hand copies online.
There are copies available for loan from the Hertfordshire Library Services