Owen & Bowen,
Strip Map through Hatfield and Baldock
1760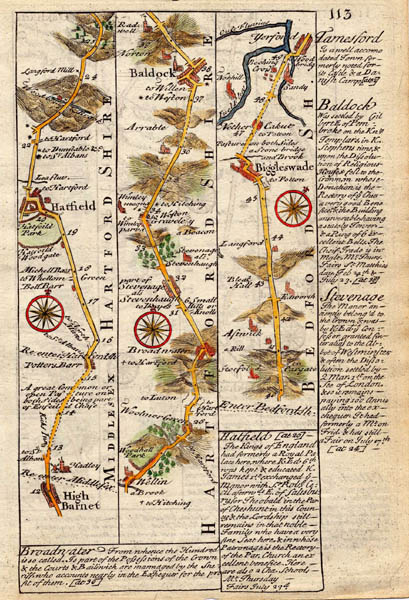 Emanuel Bowen, map and print seller, was also engraver to King George II and Louis XV of France. From 1714 on, working in London, he produced some of the best and most attractive maps of the 18th century. He planned to publish a major English County Atlas, but it was beyond his means. He joined forces instead with another major cartographer, Thomas Kitchin, to publish 'The Large English Atlas'. In 1720, he combined with John Owen to issue a book of road maps based, as was usual at that time, on the earlier work of John Ogilby's 'Britannia', which was the first in Britain to recognise one distance for the mile - 1760 yards, and a constant scale of one inch to the mile. Owen & Bowen's atlas, reissued several times to 1760, is called 'Britannia Depicta' or 'Ogilby Improved', improving the earlier Ogilby maps by including Bowen's own historic detail. There are some engaging comments included about the towns. This copperplate engraving shows, on two pages, journeys firstly from High Barnet in Middlesex to Biggleswade in Bedfordshire via Baldock, and secondly, from Tamesford in Huntingdonshire to Oakham in Northamptonshire.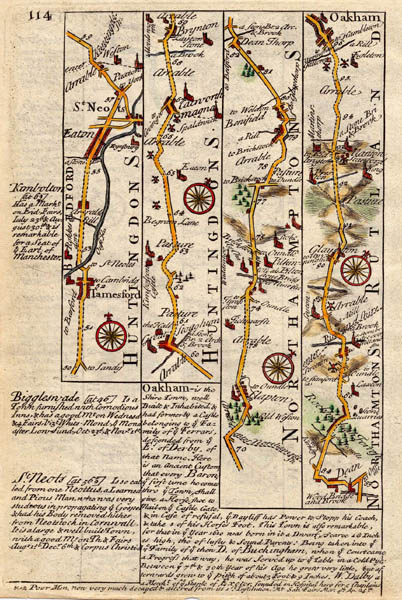 The uncoloured detail is said to come from an edition from 1730 but the maps appear to be identical. It would seem appropriate, in the absence of other information to assume they show the map as it was in the first 1720 edition.

For other text descriptions see Baldock in 1720, Hatfield in 1720 and Stevenage in 1720
See Also Strip Maps
Last Updated September 2010