Joseph (1770-1837) and Edward Sabine (1788-1883) naturalists of Tewin
by Tom Glawin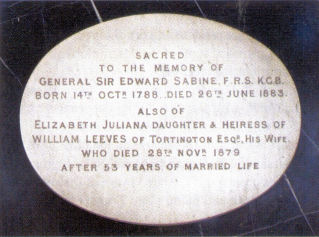 In 1715 Brigadier General Joseph Sabine (1661-1739), the head of a family of English settlers in Ireland, purchased and rebuilt Tewin House. The three sons from his first marriage to Hester Whitfield of Bishops Stortford had all died at a young age. In 1710 he married Margaretta Newsham and they had nine children (Spain, 2004).
On his death in 1739 the family estate passed to John Sabine. When John died in 1771 Tewin House was inherited by his older brother Joseph who, for reasons of debt, was later obliged to sell the house
and associated estate. Joseph and his wife Sarall (nee Hunt) had nine children of whom only five reached adulthood. These included Joseph the eldest (b1770), Caroline the eldest daughter (b1771), and Edward the youngest (b1788). Sarah died in 1788, a month after Edward was born, whereupon Caroline, then aged 17, took on responsibility for the care of the family until her marriage to Henry Browne of North Mymms Park in 1797. This proved providential for following the sale of Tewin House her father, Joseph the elder, accepted an invitation to move, with his remaining children, to North Mymms Park which then became the Sabine family home.
The two sons referred to here, namely Joseph who was encouraged by Caroline to pursue his botanical interests, and Edward, were to make very significant contributions to natural history and other scientific disciplines.
This paper summarises the achievements of, and tributes to, these Hertfordshire born brothers as natural historians.
... [here follows a lengthy article on their naturalist activities.] ..
The Hertfordshire Naturalist, 2001