THE VANISHING OF OLD ST ALBANS
A PLEA FOR THE PICTURESQUE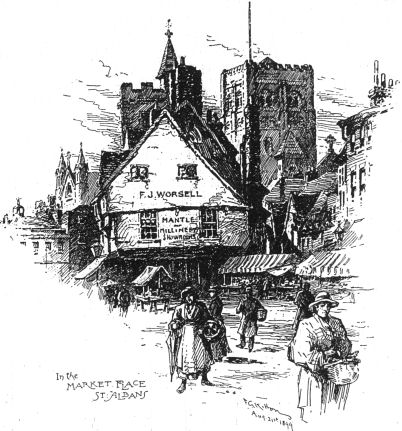 Things haven't changed over the years and the following words from the long letter by F. G. Kitton urging the people of St Albans to sign a petition to help save the old shop building at one end of the Market Place. He wrote:
Those who appreciate the old-world aspect of St Albans will, I am confident, do their utmost to oppose the present-day tendency of giving an ugly, up-to-date appearance to our ancient thoroughfares.
Artists, antiquaries, and admirers of the picturesque elements in St. Albans are not unfrequently startled by alarming reports of the impending destruction of familiar landmarks - cherished relics of a bygone age - or of the demolition of some interesting specimen of domestic architecture, of which a few striking examples happily still exist in our highways and byways. As briefly mentioned in the last issue of the "Herts Advertiser," the building now threatened is one which must be well known to every inhabitant of St Albans, standing as it does in what is perhaps the most prominent position in the town. The block of tenements, of which this particular house forms the northern extremity, is rightly considered as the most picturesque relic of medieval St. Albans, and the old plaster gable, with its overhanging upper storey fronting the Market Place and St. Peter's-street, imparts to this portion of the town a character at once so quaint and beautiful that its destruction would prove most lamentable from an artistic and archaeological standpoint. ..... [Click on cutting for larger image]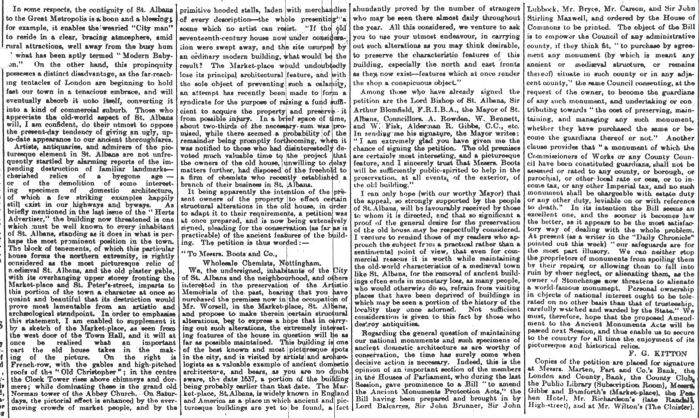 The person selling the building was Frederick James Worsell (1870-1943) who appear to have only been in the property for a short time. He was born in Hythe, Kent, and in 1881 was living with his mother Caroline, a butcher's widow. In 1891 he was an assistant draper working in Ramsgate, Kent. He married Louisa Holden in London in early 1893 and his daughter Dorothy was born in Bexhill, Sussex in December 1893. However he presumably moved to St Albans shortly afterwards as Dorothy was baptised in St Albans in March 1894. A second daughter, Ethel, was born and baptised in St Albans in 1897, and by 1901 he was employed as a master draper (manager of drapery in 1911) in Ashford, Kent, where he was living with his family.

Picture is detail from stereopair by H. W. Lane, City Studios, 43 St Peters Street, St Albans dated September 1899 and sold on ebay in 2014

Needless to say the character of the building was saved and a couple of years later the above post card of St Albans Market Place by Kitton, showing the above building was published.