HERTFORDSHIRE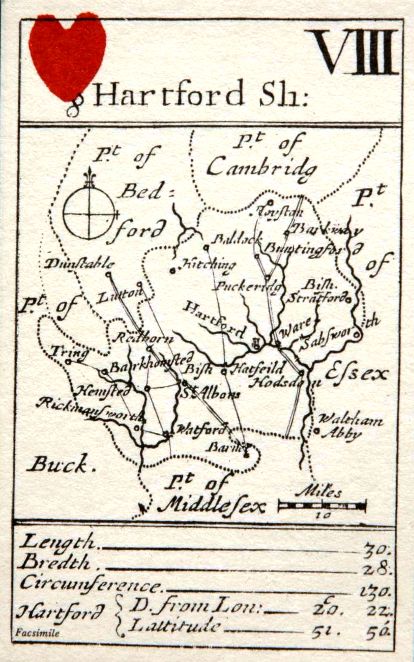 Playing Card Map 1676 à
Hartfordshire is a County that surpasseth all Countries and Counties for making the best malt, and for good cleane High-waies conscionable short miles, meat, drink, lodging for travellers, kind men; women faire and honest, and with any thing that is necessary, this County is plentifully stored withall.
Taverns in Ten Shires, John Taylor, 1636
For information on topics such as Cricket, Hunting, the Police, Railways, etc see the Subject Index.
Please note that there is a different county, on the boundary with Wales, called Herefordshire, and errors which confuse the counties are quite common.

Read the poem Hertfordshire, by John Betjeman
The Hertfordshire pages are in the process of being restructured.
When this site was first set up it was assumed that all information which covered the county as a whole could be easily reached through the main menu. Because of the way in which the web site has expanded to over 2,500 pages this is no longer adequate and a separate "home page", with menus, is being set up to provide rapid access to books and other sources, which cover Hertfordshire as a whole. It is expected that it will take some time to complete all the links needed to make this change fully operational. Old links and cross-references, including those in the Subject Index, will be maintained or even extended where appropriate.
Page created March 2008