Abbots Langley

Abbots Langley Then
1760-1960
A History of the Village and four miles around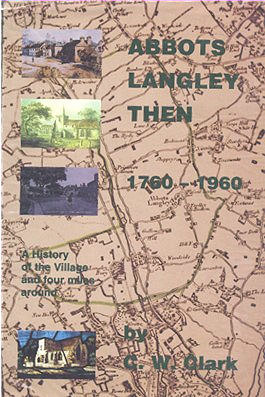 Clive W. Clark
The Author, 1997
Hardback, 24*17 cm, 592 pages, 48 plates
This book has been carefully researched and contains good references and footnotes, and many references to individuals who lived in the village. It is unusual in that it tell the story of the village as a series of entertaining scenes, with reconstructed conversations, and may not be to everyone's taste. The index is far from comprehensive as far as personal names go.
1759 Sir John's New Bend
1762 Luke Lewin and the turnpike
1768 Public and Private Business
1774 The Parish Poor House
1780 White Dog and Cecil Lodge
1787 A New Vicar and Mrs Freeman
1798 Lady Diana and the Maltster

etc ...
Locating Books
At the time this page was last updated second hand copies could be ordered online
Page restructured January 2009