Abbots Langley

The Church and Parish of
Abbots Langley
Rev Raymond Stewart Wilkinson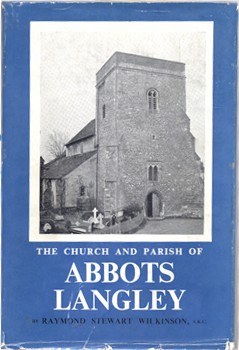 The Parochial Church Council ..., [1959]
Hardback, 20 * 13.5 cm, 100 pages, 8 plates
Chapters: Abbots Langley in the Domesday Book; The Parish Church; The Parish Records; Churchgoing in the old days; Benefactions and Social Welfare; Other Personalities and Buildings of Abbots Langley.
Appendices: Six Visitations (1757-1802); Some Parochial Returns (1584-1721); Church Possessions (1637-1785); Accounts ... A New Organ (1850); Letter by Rev Gee (1893); Incumbents of the Church (before 1368-1950); the Bearing of Arms; Abbots Langley and its Bishops; Bibliography.
Some of the the entries in the appendices are interesting. The old St Albans Archdeaconry records record that on 8th December 1597 articles were exhibited against Thomas Woodall, of Langley Abbis, for quarrelling and brawling with John Davyes of the town of St Albans, calling him a knave. a lewde knave. a saucey knave, and a blood-sucking knave. A note in the margin says he called Davyes a "luzey knave".
While the book contain a lot of interesting history it shares with many other local histories the disadvantage of not having an index.

Locating Books


At the time this page was last updated second hand copies could be ordered online
Page restructured January 2009