Aldenham Lodge

No 2 Radlett

card by Massey, Stationer, etc., Radlett

Posted June 17, 1912

In 1908 Lt-Colonel Hill Godfrey Morgan C.B., D.S.O., was at Rabley Park, Ridge

In 1912 he was at Aldenham Lodge, Radlet.

Not listed in 1914 Herts Directory
---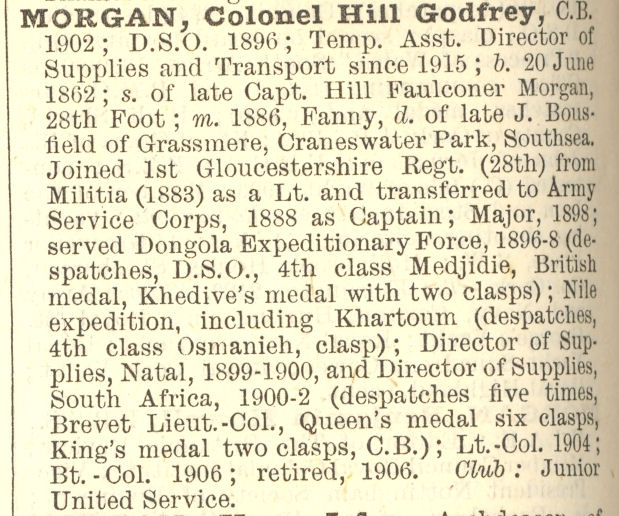 Who's Who, 1918
---
1911 Census - Aldenham Lodge
| | | | | | | | |
| --- | --- | --- | --- | --- | --- | --- | --- |
| MORGAN, H Godfrey | Head | Married | M | 48 | 1863 | Retired Army Officer | India Murserrabad |
| MORGAN, Fanny | Wife | Married 25 years | F | 45 | 1866 | | Lancs Liverpool |
| WHITEHEAD, Ernest | Boarder | Married | M | 53 | 1858 | Private Means | Kent Snodland |
| WHITEHEAD, Ada | Boarder | Married 5 years | F | 43 | 1868 | | London Maida Vale |
| WETHERELL, Frederick | Boarder | Single | M | 42 | 1869 | Private Means | Ireland Dublin |
| FOXALL, Mary | Servant | Single | F | 20 | 1891 | Lady Cook | Middx Gunnersbury |
| WICKENDEN, Charles | Servant | Single | M | 29 | 1882 | Coachman | Kent Canterbury |
| AMBROSE, Arthur | Servant | Single | M | 19 | 1892 | Groom | Berks Abingdon |
| PLEAN, Louis | Servant | Single | M | 24 | 1887 | Waiter | France Vaux Le Penil |
| AGATE, Harry | Servant | Single | M | 20 | 1891 | Panty Boy | Kent Shooters Hill |
| GOODFELLERS, Lily | Servant | Single | F | 21 | 1890 | Housemaid | London S Kensington |
| BALL, Ada | Servant | Single | F | 23 | 1888 | Housemaid | Herts Essendon |
| GRAINGER, Rhoda | Servant | Single | F | 21 | 1890 | Scullery Maid | London Bow |
| PEPINS, Claire | Servant | Single | F | 21 | 1890 | Housemaid | Northd Newcastle on Tyne |
| THOMAS, Ada | Servant | Single | F | 19 | 1892 | Kitchen Maid | Berks Sunningwell |
---
Brigadier General Hill Godfrey Morgan

(copyright National Portrait Gallery)

During the European War Colonel Morgan served from August 1914, as Assistant Director of Supplies, Central Force, and from January 1915, as Administrative Member, Forage Committee. He was mentioned three times for services, promoted Brigadier General 1919; created a CMG in 1918 and a Knight of the British Empire in 1919 (War Medal). Sir H G Morgan married in 1886, Fanny, daughter of J Bousfield, of Grassmere, Craneswater Park, Southsea.
Page created January 2014