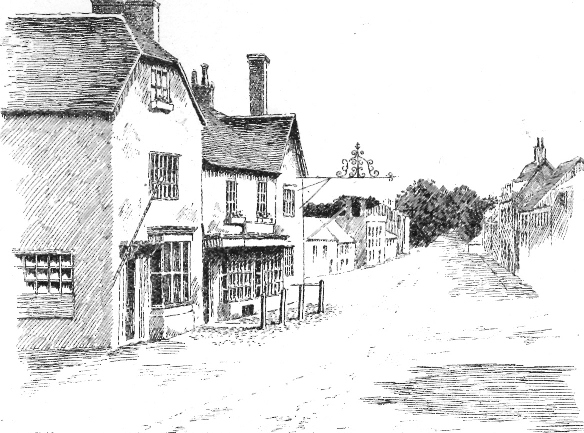 Old Houses at Baldock [Picturesque Hertfordshire]
Returning to the high road, in about two miles we reach the fine old Market Town of BALDOCK, distant eighteen miles from Hertford. The old Roman Road called the Icknield Way, here crossed the Great High North Road. This place was formerly called Baudac, and was granted by Gilbert, Earl of Pembroke, to the Knights Templars (in the reign of King Stephen). The Town is pleasantly situated in a valley, in a fine open. country, between two hills; it is healthy and well supplied with water. There is a Corn and Plait Market on Friday; a good business is transacted in malt; the district round being one famed for the growth of barley. Many of the houses are well-built, and have an antique appearance. The Church, dedicated to St. Mary, is spacious and very handsome; a portion of it is in the Norman, and the remainder in the Later English style. It has a fine tower with six bells, and a spire, which has been recently rebuilt. In the interior are some very ancient tombs, presumed to be of Knights Templars; there is part of the old rood loft still remaining, a very curious antique font, an oak screen beautifully carved in the chancel, and several stalls. On the floor of the nave is an ancient inscription in black letter and old Norman-French to Reynaud de Argenthem. Gough thinks this is so very old that it appears to have been removed from a former Church or Chapel. Chauncy mentions two inscriptions to William Wynter (1416), and William Crane (1483), which are gone. There are in the Church several memorials to the family of Fitz-John, many years resident here, and to those of Littledale, Thurgood, and others. A very beautiful mural monument, by Bailey, is to the memory of Mrs. Gale; there arc also several stained glass windows. In the wall of this fine old Church are built some stone coffins. The following epitaph preserved by Weever is not to be found now in the Church :-
Farewell my Friendys the Tyd abideth no Man,
I am departed hence, and so sal ye.
But in this Passage the best Song I can,
Is Requiem acternam, now Jesu grant it mc.
When I have ended all mine Adversity,
Grant me in Paradys to have a Mansion,
That shedst thy Blood for my Redemption.
The whole Church has been admirably restored, and is a great credit to the Town. The living is a Rectory united with Reed, and is of the annual value of £512, in the patronage of Magdalen College, Cambridge.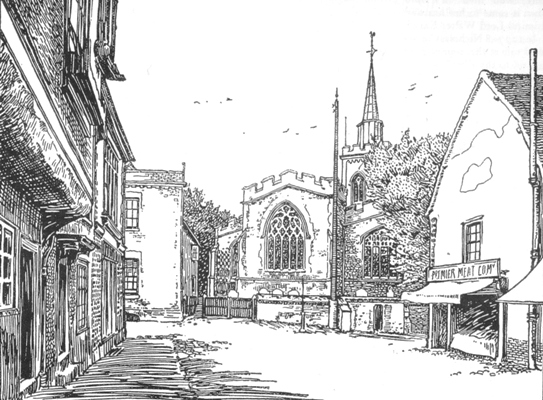 St Mary's Church [Victoria County History]
It is recorded that in the month of June, 1647, the unfortunate Charles the First, was taken under an escort of soldiers, commanded by one Colonel Joyce, formerly a tailor, but then an officer in Fairfax's army, from Newmarket to Windsor, passing through Baldock from Royston on his way. As he entered the town on the morning of the 29th, the inhabitants came out to see his majesty, as much perhaps to evince their loyalty, as to gratify their curiosity; and at the head of his parishioners, and in full canonicals, stood their Rector, Josias Byrd, then in his sixty-ninth year. The misfortunes of the king, and the known indignities, to which even then he had been subjected, had moved the loyal feelings of this good old churchman, and he determined to avow them publicly in a noble way. Holding the communion cup filled with wine in his hands, he presented it to the king with the fervent salutation, - "May God bless your Majesty!" Charles struck, it may have been, with the appearance and manners of the saluter, enquired who he was. "Please your Majesty" - replied the venerable man, - "I am Josias Byrd, parson of Baldock; and I" - continued he - "have brought this cup of wine for your highness's refreshment." Whereupon the king took the cup, and drank off its contents; and returning it, observed with that melancholy pleasantry, which was natural to him - "Mr. Byrd, I thank you; and let me tell you that I did not think I had so good a byrd in all my kingdom." This is a well-founded local tradition; and the identical cup, out of which the king drank, was, in 1859, in the possession of the Rector of Baldock.
Worthy Mr. Byrd's memory was for some time preserved in a quaint inscription on his tombstone, but the monument has long since disappeared; Chauncy, however, has copied it. It was as follows :-
Josiah Byrd lies Buried here,
Who taught this Parish three and fifty yeare;
Aged he was, as I have heard some say,
He was Eighty eight before he past away,
And dies in the yeare
When I and sixes three made up the Quere.

The Wynn Almshouses [A Pilgrimage in Hertfordshire]
There are several Dissenting Chapels in the Town, and a Meeting House for the Society of Friends, which was once a numerous body here. Almshouses for twelve poor widows were erected from a donative by John Wynne, an inhabitant, in 1617, and there are several other charitable institutions and benefactions to the poor. Baldock has a Local Board of government, is lighted by gas and partly paved, and is a neat and thriving Town. An annual Fair was granted by Henry III, which used to continue for several days, but it has of late considerably diminished. A peculiar sort of cheese made at Baldock was one of the principal commodities sold at this fair. Discoveries of fossils have been. made at various times in the vicinity, when excavations have been made, consisting of a great number of sharks' teeth, varieties of horns, etc. An extensive Brewery has for many years been carried on at Baldock. The number of acres in the Parish is 1435; the population, 2036.