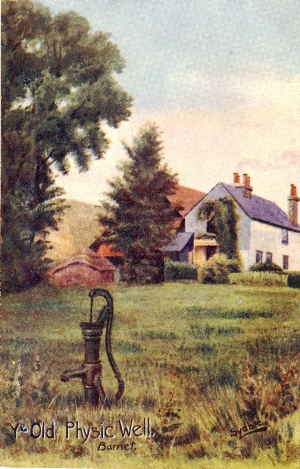 Ye Old Physic Well
Sydbie Series Postcard by The Water Colour Post Card Co.
[Company published cards from about 1905]
This well was visited by Samuel Pepys in August 1667. It was mentioned by Fuller along with Tunbridge Wells and Epsom, but is now no longer in use.
On Barnet Common in Arkley, 135 acres of which were inclosed in 1728–9, and part in 1731, there is a mineral-water well, which was at one time in high repute for its medicinal properties. Its discovery is noted in 1652, and Fuller in his Worthies in 1662 says that 'already the catalogue of cures done by this spring amounteth to a great number; insomuch that there is hope in process of time the water rising here will repair the blood shed hard by and save as many lives as were lost in the fatal battle at Barnet.' Pepys in his diary records under date 11 July, 1664, that he took five glasses of the water, but he adds that 'when he arrived home he was not very well, and so went betimes to bed, and during the night got worse and worse so that he melted almost to water.' On 11 August, 1667, he went again to Barnet, but remembering his former experience he took only three glasses and then went to the 'Red Lion,' where he says that he 'ate some of the best cheese cakes I ever did eat in my life.' (fn. 8) This inn is the old 'Red Lion' at Underhill near the railway bridge. In 1677 Mr. Owen, an alderman of London, gave 20s. a year to Barnet in trust to be paid by the company of Fishmongers for the repair of the Physic Well, and in an Act of Parliament of 2 Geo. II for an inclosure of part of Barnet Common a clause was inserted for the due security of the right of the medicinal well to the inhabitants of Barnet for ever. About 1808 a subscription was raised by the neighbouring gentlemen for arching over the well and erecting a pump, for the house formerly built over it was beginning to fall into decay, and was demolished in 1840. The well still exists, and is reached from Wood Street by Wellhouse Lane, a road which terminates in a grassy lane.