Life is full of ephemera - everyday things we take for granted and throw away when we have finished with them. As such they rarely survive but if they do they can fill in details of your ancestors everyday life.
Thie empty envelope provides information on a billet in Berkhamsted.
During the First World War large numbers of soldiers were billeted in West Hertfordshire, including Berkhamsted, but the relevant billeting records have not survived. This means that documents, such as this empty envelope may be the only surviving record of a billet, the soldier who was billeted there, and the military unit with which he was associated.
This page has been set up to record billeting information as it is located, to help future researchers, and if you can add information on other war-time billets (not just Berkhamsted) please tell me.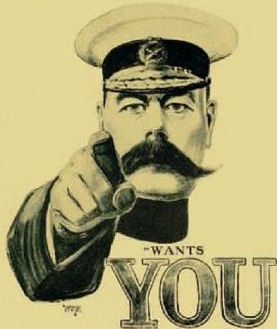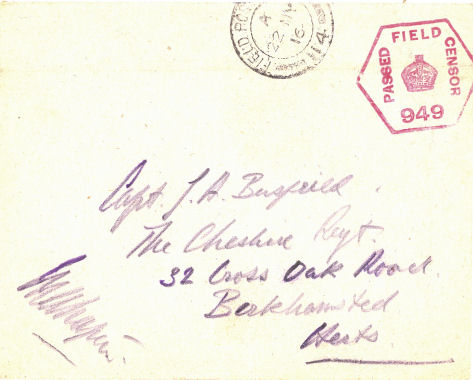 An envelope sent during the First World War, from Field Post Office 114 (Field Censor 949) to Capt J H. Busfield, of the Cheshire Regiment at 32 Cross Oak Road, Berkhamsted, Herts
In 1911 Captain John Atkinson Busfield, of the 2nd Battalion, Cheshire Regiment, was based at The Ridge, Jubbulpore, India, but was absent in England. He was 33 and born at West Morton, Yorks (=? Horton, Brafdord, West Riding of Yorkshire). At the same time 32 Cross Oak Road, Berkhamsted was occupied by Frederick Buckle (widower, aged 43, horsekeeper, born Hunston, Suffolk) and family.