The River Quin
Braughing Area
The River Quin rises near Barkway and flows south with Anstey on the west and Little & Great Hormead on the east. It passes through Braughing, to join the River Rib just south of the village.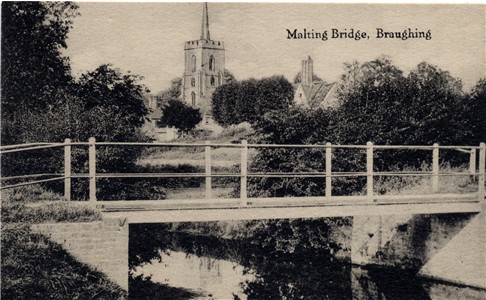 Malting Bridge, Braughing
(Taken from the opposite bank of the River Quinn)
Published by J. Williams, Standon Road, Puckeridge, Herts

James Williams, photographer, Puckeridge, is listed in the 1912 and 1937 Kelly's Directory for Hertfordshire. He is not listed in the 1908 directory for either Puckeridge or Standon.
Before making my way to Buntingford, I leave the old North Road at the White Hart in Puckeridge, and walk as far as to Braughing, a village on the main road to Cambridge. A footpath leads from the road to the river Quin near its junction with the Rib. As I go down that footpath, the village rises before me on the opposite hillside, the church standing in the centre. In the summer the many trees that mark the river's course almost hide the village from sight, but now, when those trees are bare, the cottages - there are but few large houses in Braughing - can be seen plainly enough through a network of twigs. I linger on the little bridge to watch the Quin creep sluggishly beneath, and to give due heed to the doings of a pair of wagtails who are wading in the ooze. How elusive, how difficult to express in words, is the charm of the river side, even where that river is little more than a brook which "idles its sluggish life away in lazy liberty, without turning a solitary spindle, or affording even water power enough to grind the corn that grows upon its banks."

Herbert Tompkins, Highways & Byways in Hertfordshire, 1910
Malting Bridge, Braughing
Published by James Williams, Photographer, Standon, Herts - Card circa 1910
A Foden steam wagon number M3877 carrying the name C & C Gyler is crossing the Ford
Page created December 2008