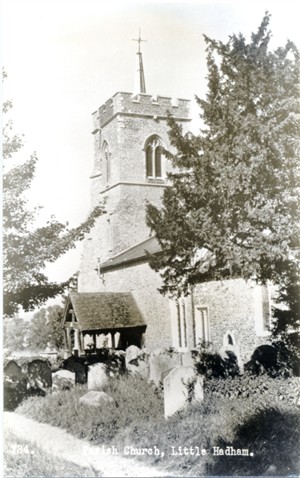 Parish Church, Little Hadham
The church of St Edmund the Martyr is a building of flint with stone dressings, in the Early English and Perpendicular styles, consisting of chancel, nave, north trancept (built by the Capels in the 17th century), south porch and an embattled western tower with pinnacles containing 5 bells, three of which are dated 1595, 1623 and 1693; a Perpendicular screen of oak divides the chancel and nave ... the chancel was restored in 1885 from the designs of Sir A. W. Blomfield.
The Living is a rectory, net yearly value £340, with 5 acres of glebe and residence, in the gift of the Bishop of London, and held since 1875 by the Rev. James Marshall Bury B.A. of Emmanuel College, Cambridge.
[Kelly's Directory, 1908]
In 1913 the church was rededicated to St Cecilia