Sometimes you can be lucky and some piece of ephemera has survived which can suggest what your ancestors might have been doing on a particular day in the past. In this case it is a flyer for a concert at which you know that George Nettleton, and George Gaffe took part. In addition there would be the instrumentalists, and the audience. I have not checked the local paper for the date (which might well mention more names) - but if there is something like this in your family archives it is very likely that one of your relatives was involved.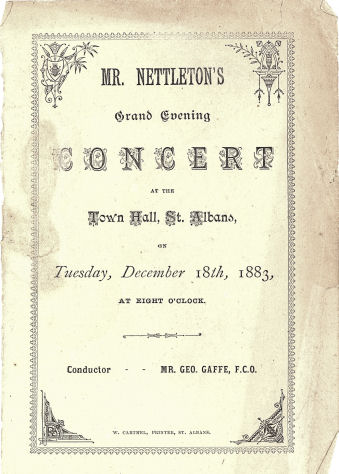 Mr Nettleton's
Grand Evening
Concert
at the
Town Hall, St Albans
on Tuesday, December 18th, 1883,
at Eight o'clock
W. Cartmel, Printer, St. Albans
Click on image for higher resolution.
1881 Census
George J Nettleton, 27, School Master, Oxford House School, Alma Road, St Albans. He is listed as headmaster in the 1882 Kelly's Directory for Hertfordshire.
George Gaffe, 31, Professor of Music, Organist, lodging in Well Cross Street, St Albans. In 1889 he was giving lessons in the Library under the title St Albans School of Music.
George Gaffe was born at Cawston, Norfolk, July 27, 1849. Chorister in Norwich Cathedral, and pupil of and assistant to Dr. Z. Buck. Organist of Oswestry Parish Church, 1874, and afterwards appointed to St. Alban's. Founder and Principal of the St. Alban's School of Music ; Fellow and Member of the Council of the Royal College of Organists. Composer of an Evening Service, a set of Offertory Sentences, &c. [From comment on Newsletter]
William Cartmel, 60, Master Printer employing 4 men and 4 boys, Woodbine House, Hill Street, St Michaels, St Albans. William Cartmel published the Hertfordshire Standard in the 1880s.