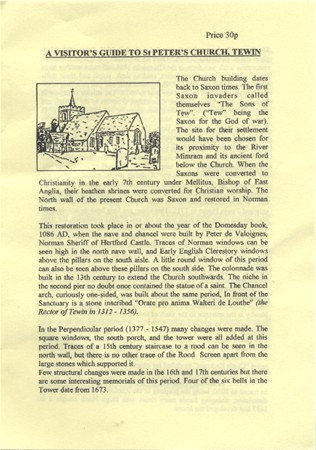 A single folded A4 sheet which briefly describes the history of the church from Saxon times, and gives details of the memorials in the church - and also some information on the churchyard.
By the East wall of the churchyard are tombstones for the Carringtons, Dennes, Feilds, and Hopkyns, all prominent figured in the life of the village, whose deeds are well recorded in parish documents. A little apart to the south are stones to the memory of John Carrington and his wife. For some time he was at Bacon's Farm on the Hertford Road, where he wrote a diary of the day-to-day events of the district, with comments on the local inhabitants of the day. They give a detailed account of parish life during the late 18th and 19th centuries. See The Carrington Diary
The Tomb in the churchyard most frequently visited ... is that of Lady Anne Grimston. ... She was reported to have said, "If, indeed, there is life hereafter, trees will render asunder my tomb." For over 200 years trees have forced their limbs through the tomb to raise their branches in rejoicing. ...