The Callowland Schools were built in Leavesden Road in 1895 — one for boys, between Shakespeare Street and Acme Road, and one for girls and infants, south of Lowestoft Road. School attendance of girls was significantly lower than that of boys, even though by this time, school attendance until the age of twelve was both compulsory and free. Kelly's Directory 1902 reports that average attendance at the boys' school was 480, while average attendance at the other school was 280 girls and 380 infants. The school master and mistresses were Edwin Ashby (boys), Miss A.M. Gardner (girls), and Miss Fowler (infants). [North Watford History Group - Leavesden Road]
---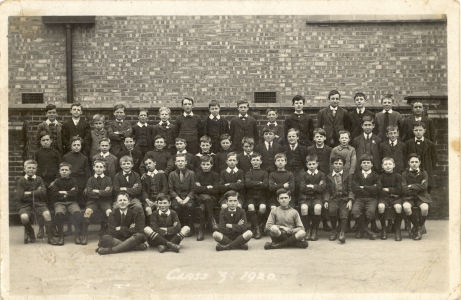 Class 3
Callowland Boys School
1920
"Percy Cupid , born October 1907"
No photographer information
Click on picture for larger image
---
Edwin Ashby - Headmaster of the Boys School.
Edwin was born in Hemel Hempstead in 1851/2, the son of Jonathan Ashby, a carpenter & joiner and in 1871 he was a pupil teacher in church school, living with his parents in Herbert Street, Hemel Hempstead. He married Mary Crouch in 1877 and by 1878 he was master at St Andrews school for boys and infants at Church Road, Watford, his wife Mary being the infants' mistress. He was still there in 1895, the school now being listed as catering for 210 boys, attendance 188, there being no mention of infants. In the same year Callowland (boys) was listed for the first time, for 160 children; average attendance 123, master E. J. Owen. By 1899 Edwin was master of the Callowland boys school "which was erected in 1895" for 494 children with an average attendance of 480, and it would appear that only part of the school was open when the 1895 directory was being compiled and Edwin was the first headmaster of the full school.
Edwin lived at 74, St Albans Road, Watford, his first wife dying in 1900, and he remarried Harriette Hoodless in 1901. He was still listed in 1917 but in 1922 William Thomas Pulman (recorded as a teacher living at 126 Bradshaw Road, Watford in 1911) was listed as temporary master, and Edwin died in 1923. In 1926 W. J. Tovey was listed as master. This would suggest that Edwin was probably still the headmaster at the time the above photograph was taken - but had to step down, possibly because of ill health not long afterwards.
---
Annie Mary Gardner - Headmistress of the Girls' School
Anne Mary Gardner was born in London in 1864, her father being a schoolmaster in Kensington in 1871. By 1872 the family had moved to Bushey. By 1878 I find him recorded as master at the British School for boys, girls and infants at Beechen Grove, Watford. and he is still listed there in 1890, but not 1895.
In 1881 Anne was living with her parents in Queens Road, Watford, working as a pupil teacher, as was her sister, Charlotte. She was not with her father in Queens Road, Watford, in 1891, and sister Charlotte was working as a nurse in London, but her younger brother Charles was a teacher assistant, possibly in his father's school. In 1895 she was the mistress in the girls school at Callowland. As the school was already full size, being built for 284 children, with an average attendance was 132 girls and 147 infants, it seems likely that it was completed before the boys school.
In 1901 and 1911 she was living with her brother Charles (also a school teacher), first at 37 Denmark Street, Watford and then at 86 St Albans Road, Watford. She is still listed as mistress in the Callowland girls school in 1922 but in 1926 Miss H Gloag was the girls' mistress.