Hertfordshire Post Card History

The Divided back -

Restricted Posting Overseas

From 1904-6
The divided back caught on quickly, and soon started to spread overseas. France was the first country to accept the idea in 1904 and cards are known bearing instructions such as "This space may be used for communication in the British Isles or to France at Postcard rate." Germany followed in 1905. Unfortunately I have not yet found Hertfordshire examples with such wording.
It should be noted that different publishers used different wordings
Example 1 - Long list of Countries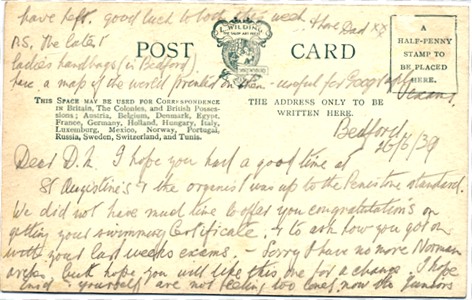 THIS SPACE MAY BE USED FOR CORRESPONDENCE IN Britain, The Colonies, and British Possessions; Austria, Belgium, Denmark, Egypt, France, Germany, Holland, Hungary, Italy, Luxenburg, Mexico, Norway, Portugal, Russia, Sweden, Switzerland, and Tunis.
As the list of foreign countries got longer, some postcard printers tried to keep pace, ad this example from a postcard (not Hertfordshire) with a painting by E. A. Phipson and published by L. Wilding. A Hertfordshire card with similar wording can be seen on the Northaw page.
Example 2 - For Some Foreign Countries
| | |
| --- | --- |
| | As the number of countries increased it became impractical to include a full list, as this example of a card of the Lady Chapel in St Albans Cathedral. |
Example 3 - For Most Foreign Countries

Example 4 - Simple Exclusion List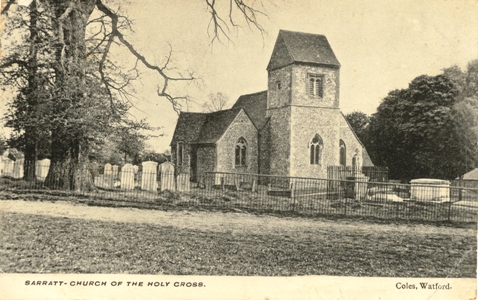 This card, showing Sarratt church, posted in 1907 - bears the instructions "This space may be used for communication Inland and to all Foreign Countries except Japan, Spain and the United States."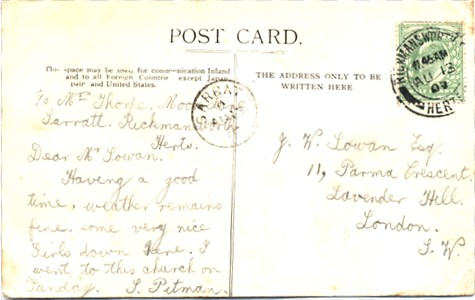 However other exclusion lists occur:
| | |
| --- | --- |
| | The card of The Implement Gate, Tring is worded This half for correspondence inland and to the chief Foreign Countries except Greece, Japan, Servia, Turkey (See Postal Guide) |
Example 5 - Worldwide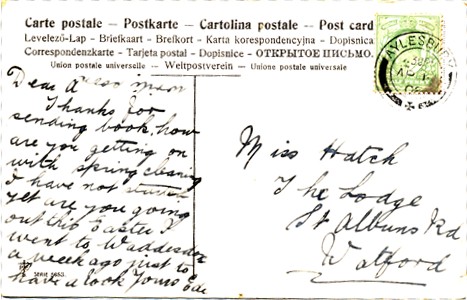 In 1906 the Universal Postal Union agreed that the divided back format could be used worldwide, and this was celebrated by widening the message - as has been done in the postcard sent to Watford in 1906.