Can you identify the children used as models?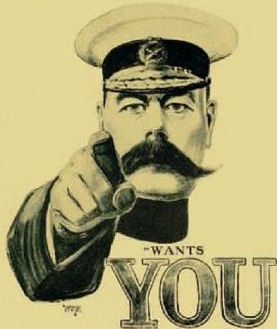 if you can supply details (and possibly scans) of other examples of work by these photographers.
The Post Cards by
M & A Austin of St Albans
1901-1914
Mary Elizabeth Austin was born in Clerkenwell in 1872 and her sister Amy Caroline Austin was born there in 1876. Their father John James Austin was an accountant who lived at 75 Holywell Hill, and was there from before the 1891 census to his death in 1910.
In the 1891 census Mary was described as a "Teacher of Music", as a "Photographer" in 1901 and as a "Photographic Artist" in 1911. Her sister was described as a "Photographer" in 1901 and in 1911 was a patient at Mackonochie House, Bognor, where her occupation was given as "artist". They are listed in trade directories in 1906 and 1914 but not in 1902 (when their father was listed at 75 Holywell Hill) or in 1917.
The Misses M. & A. Austin are listed as photographers in the 1908, 1912 and 1914 Kelly's Directories for Hertfordshire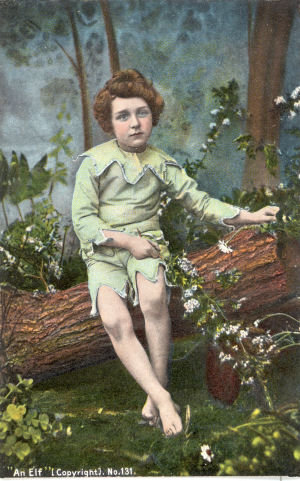 "An Elf" No. 131
(back not before 1906)
Published by M & A Austin, St Albans
Printed in Germany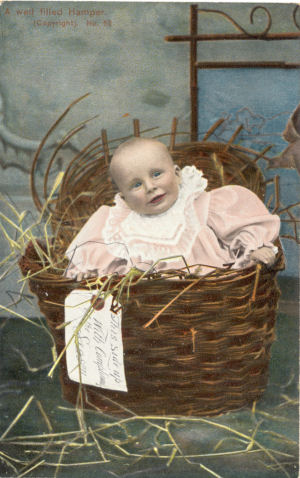 A Well Filled Hamper No 62
back circa 1903
printed in Germany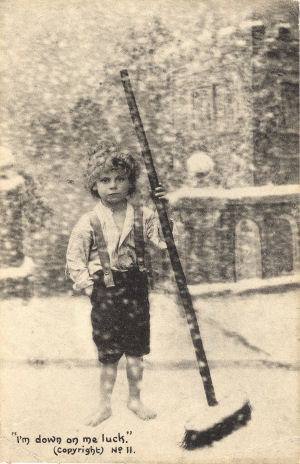 I'm down on my luck - No 11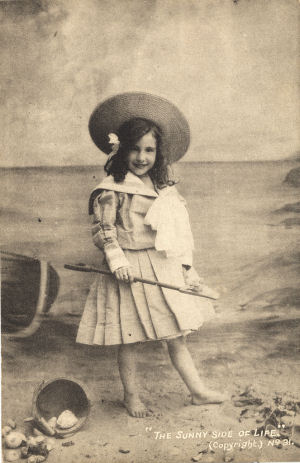 The Sunny Side of Life - No 31
They clearly produced a series of art photo post cards showing children and cats and the following titles have been identified on the web:
1
Fantails [pigeons - posted 1906]
2
A Knight Harbinger
3
Right Away [Cats]
4?
So Comfy [Cats posted 1906]
5
Cats - Who Did It?
11
I'm down on my luck
12
Sweep yer snow away?
31
The Sunny Side of Life
38
Love Me, Love My Dog
41
The Little Gardener
42
Playmates
46
Her Mother's Voice [kitten & violin]
52
The Forty Thieves [Cats]
56
Childhood's Trust [posted 1906]
59
Two Pairs of Twins [Cats]
60
Fur, Feather and Fish [posted 1906]
62
A Well Filled Hamper
67
My FiancÚ! [Cat & Dog]
68
I really can't kiss him [Cat & Dog]
76
Wild Roses
104
We finish the Letter for Home [Cats]
131
An Elf
152?

The Sorrows of Satan [kitten]

157
The Motor Race (Speed Limit) [kittens & tortoises]
162

Beauty Unadorned [Cat]

The Romantic Love Story of Blackie & Beauty

A series of 12 cards [Cats]

3

The Proposal , Shall it be 'Yes'
There are three examples of their photographs in the St Albans Museum collection of pictures:
Undoubtedly they took many more photographs - and published more post cards, and if you know of more examples I will be happy to update this short biography.